Project Details
Educational Material to 180 Poor Children in Vijayawada
Vijayawada, Krishna District, AP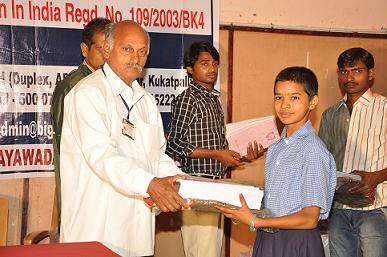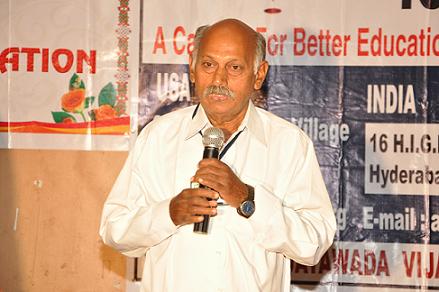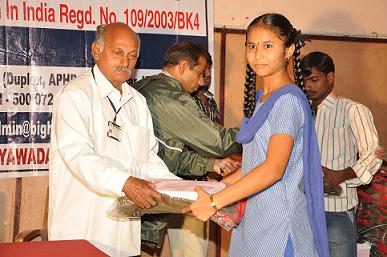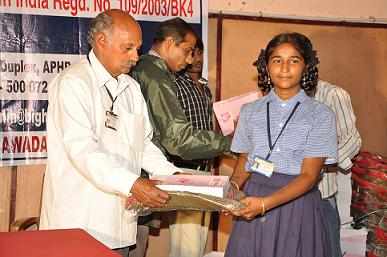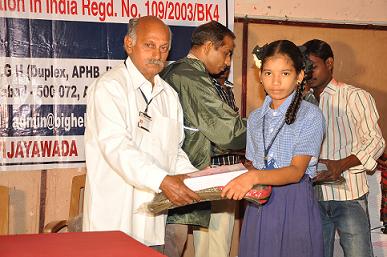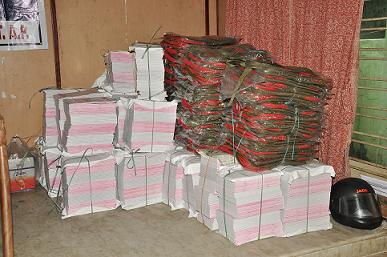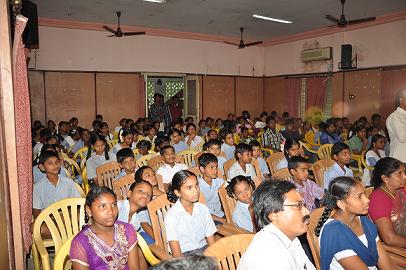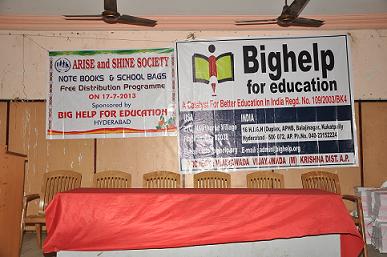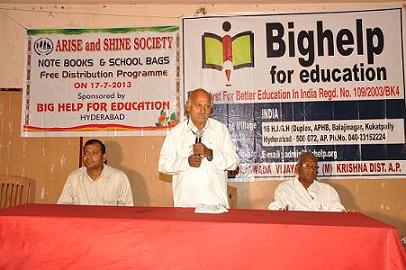 Bighelp has provided school bags, note books, pens, pencils and erasers to 180 students from 6 government public schools in and around Vijayawada, Andhra Pradesh.


All of the 180 students are from poor socio and economic background and below poverty level. Some of the children are orphans and some are with parents of who cannot afford to buy any educational material for their children due to their poverty. Bighelp collaborated with a local non-profit organization at Vijayawada, Arise & Shine, that helped in screening hundreds of families and shortlisted the children who were struggling with poverty and those who could not meet their basic educational needs. Bighelp team from Vijayawada project has surveyed the villages and schools, talked to the children and teachers and completed the final selection of 180 deserving students based on their poverty level, interest in continuing their education and their academic performance. All of 180 students were presented with education materials including a school bag and note books. These materials are very useful in a way that they motivate children to attend school and improve the quality of their education.

Bighelp believes that the poverty alleviation can be done through providing good educational opportunities to the next generation. Eradication of poverty in India is a long-term goal of Bighelp and it continues to work hard to break the cycle of poverty by providing the better education opportunities and mentoring children towards reaching their goal.


Media Coverage
18-Jul-2013 News published in Andhrajyothi on 18-Jul-2013
18-Jul-2013 News published in Andhraprabha on 18-Jul-2013
18-Jul-2013 News published in Eenadu on 18-Jul-2013
18-Jul-2013 News published in Sakshi on 18-Jul-2013
18-Jul-2013 News published in Vaartha on 18-Jul-2013
Project Geographic Information
Children are from villages in and around Vijayawada: Kandrika, Patamatalanka, Ajithsing Nagar, and Vaddeswaram. Vijayawada city situated 240 KMS away from Hyderabad and is connected with road, rail and air transport.


School Information
Students from following 6 schools are provided with school bags and note books:
1. A.K.T.P. V.M.C. High School
2. Sri. B.V. Subbareddy M.C.H. School, Kandrika
3. V.M.C. High School, Patamatalanka
4. M.K. Baig MCH School, Ajitsing Nagar
5. Zilla Parishad High School, Vaddeswaram
6. K.S.R. Z.P. High School, Patamatalanka

Project Inaugural Information
On 07-Jul-213 at 10.30 the program was started at Gandhinagar Press club of Vijayawada, all 180 students of 6 schools selected were present at the Venue.

Following Personnel were attended at the Function:
1. Mr. Rao Bighelp Advisor, Hyderabad
2. Mr. D.S. Chalam, Bighelp Project Committee Chairman (PCC), Vijayawada
3. Mr. Ravi Teja, Bighelp Project Director (PD), Vijayawada
4. Smt. Ratnam , Secretary of Arise and shine.
5. One teacher from each school with their students batch.
7. Team members of Arise and shine.

Meeting was started exactly by 10:45 A M and Mr. Rao explained the formation, trustees, aims and activities of Bighelp organization and its present status briefly.

PCC has explained about commencing of Bighelp project at Vijayawada the way of the organization extending help to the needy students to complete their higher education without any hindrance.

Mr. Ravi Teja explained the way he approached Bighelp organization 5 years back and about Adopt a school program conducted in the same press club during 2007, at which 100 students were presented with uniform, bags & note books and after one year starting of Bighelp Project at Vijayawada and thanked the organization for continuous support to the students.

Two teachersfrom two schools were also spoke about the support receiving from the Bighelp organization and advised the students to properly utilize this opportunity in completing their education.

Later Education material such as Bags, notebooks pens pencils and eraseres were distributed to each students by all the personnel presented on the occasion.

Press media personnel interviewed Mr. Rao and took the particulars of Bighelp organization and its activities for publishing in news paper and telecasting through media channels

The program was closed with vote of thanks by Mr. Raja and Janaganamana by all participants.


Project Survey Information
Sri. K. Ravindra, Bighelp Project Director from Vijayawada project came with a proposal for providing school bags and note books to students from various villages in and around Vijayawada. After reviewing the needs and talking to the teachers, the proposal has been approved by the Bighelp Executive Body headed by the President & Funder Mr. Chand Pasha Shaik.

More Projects At This Location
Provided NMMS Material to MK. Baig M.C.H. School-Vijayawada 2022-23
Sponsor A Child - Vijayawada, Year 2022-23
Sports Meet - Vijayawada - Year 2022
Sponsor A Child - Vijayawada, Year 2021-22
Sidhartha Medical College Alumni - Oxygen plant
Sponsor A Child - Vijayawada, Year 2020-21
Donated sports material to GVJZPH School - Jaggaiahpet
Provided Note books to Arise and Shine Society
Sponsor A Child - Vijayawada, Year 2019-20
Chalasani Vajramma & Punnaiah award for Excellence - Vijayawada
Youth Internship by Siddharth Ram Boppana - Summer 2018
Youth Internship by Vamsi Krishna Vetsa - Summer 2018
Sponsor A Child - Vijayawada, Year 2018-19
Sports Meet - Vijayawada - Year 2017
Bighelp Award For Excellence - Vijayawada
Sponsor A Child - Vijayawada, Year 2017-18
Donated computers to hearing impaired children at Annamma Special School
Donated Educational and Sports material to Annamma Special School
Sponsor A Child - Vijayawada, Year 2016- 17
Donated Candles making Machine to Annamma Special School
Sponsor A Child - Vijayawada, Year 2015- 16
Sports Meet - Vijayawada - Year 2014
Sponsor A Child - Vijayawada, Year 2014- 15
Sponsor A Child - Vijayawada, Year 2013 - 14
Sponsor A Child - Vijayawada, Year 2012 - 13
Sponsor A Child - Vijayawada, Year 2011 - 12
Sponsor A Child - Vijayawada, Year 2010 - 11
Janyaa - Vijayavada - Year 2009 - 2010
Presented Education Materials to 100 Poor Children
Donors sponsored this project
| Project Start Date | Project Current Status |
| --- | --- |
| 30-Mar-2013 | Completed |