Project Details
Bighelp Award For Excellence - Sathupally
Sathupally, Khammam District, TS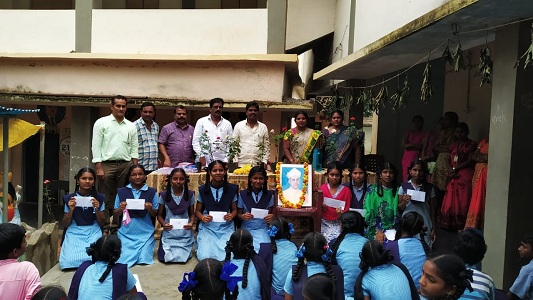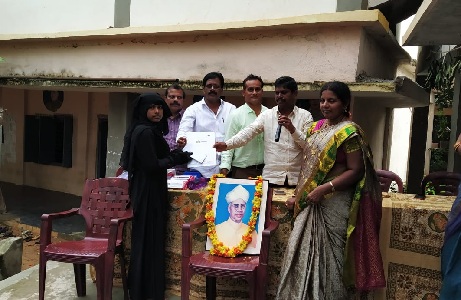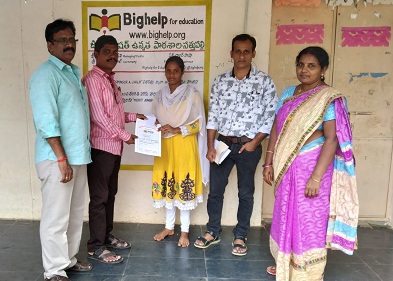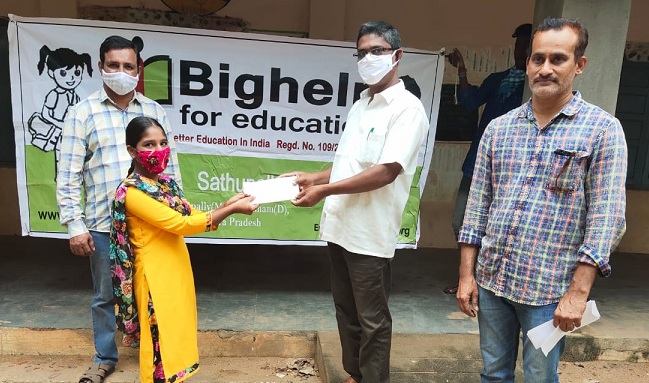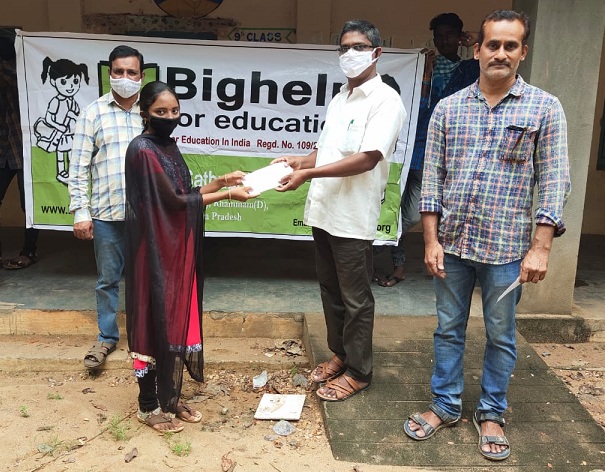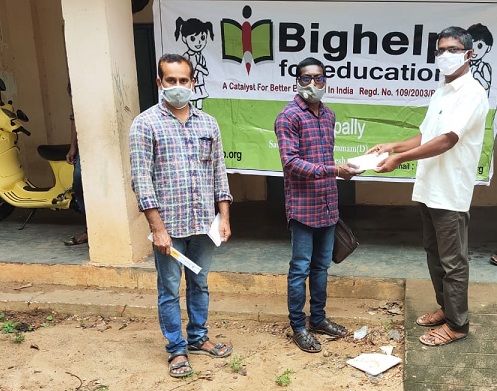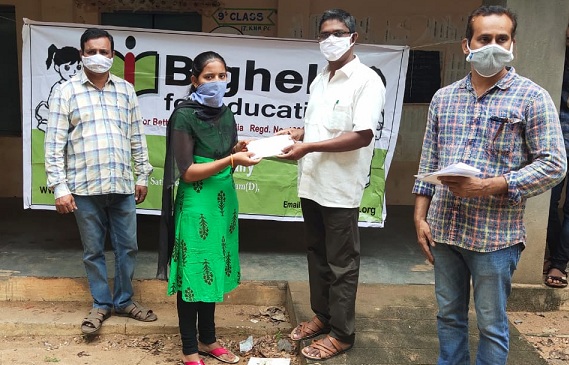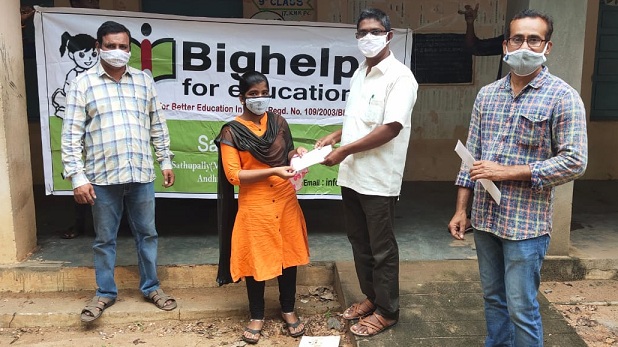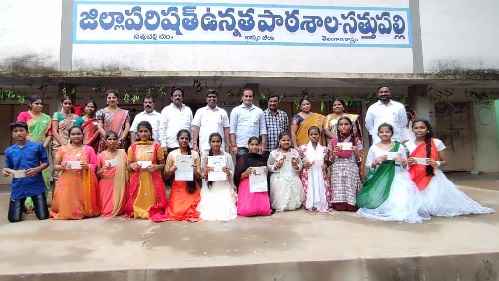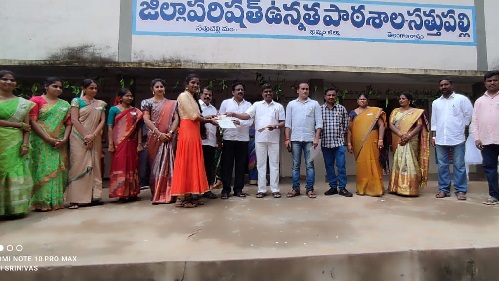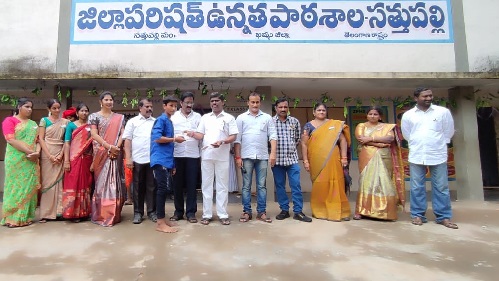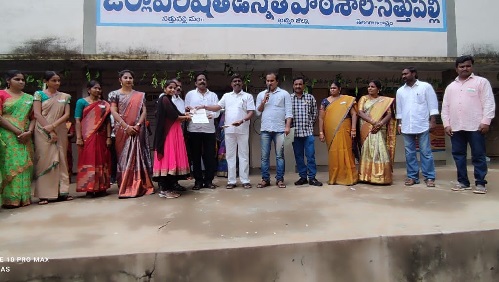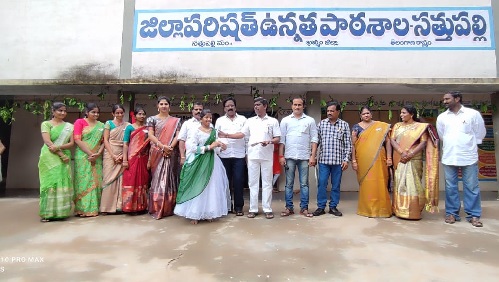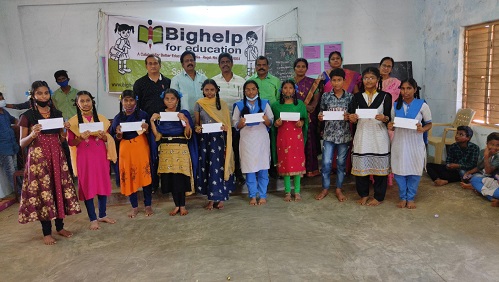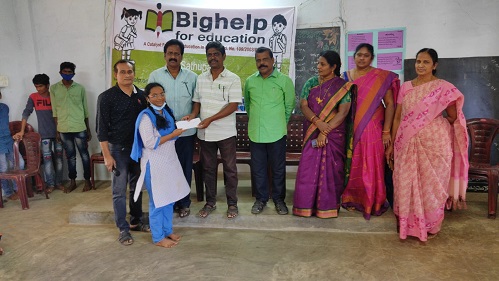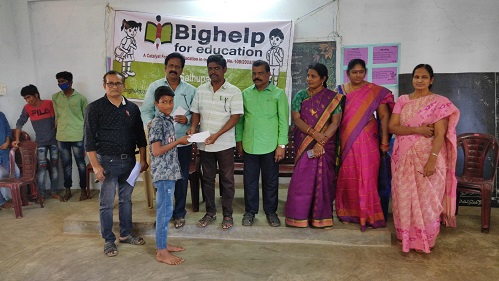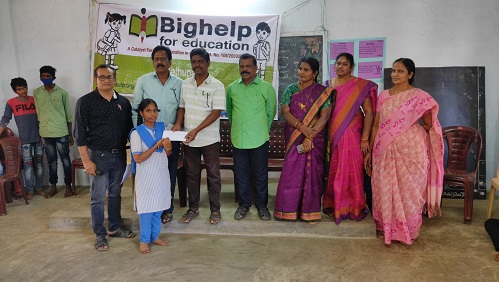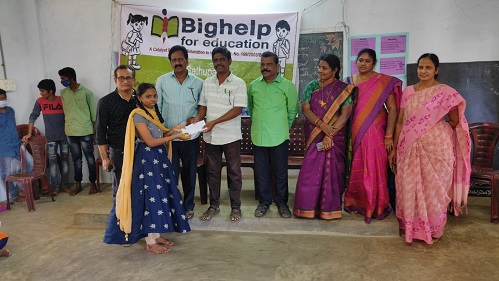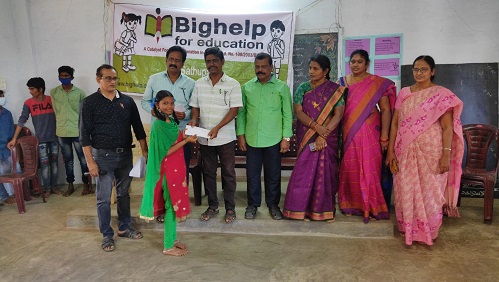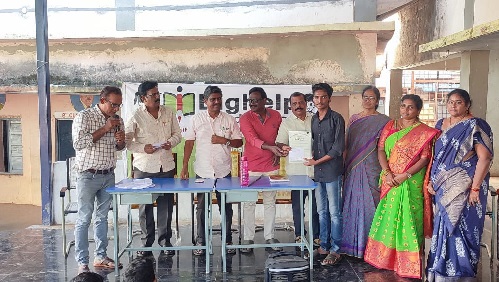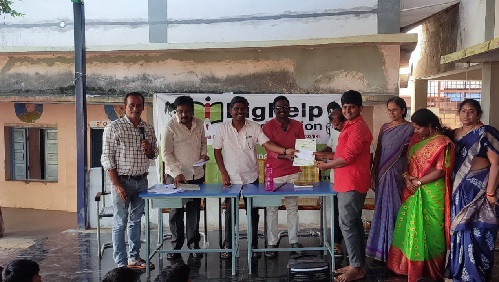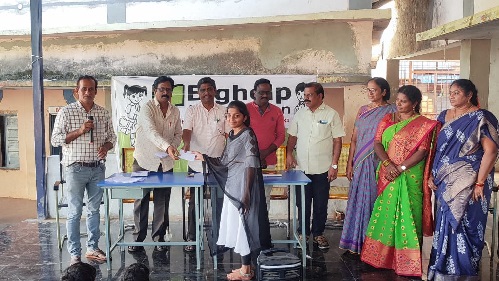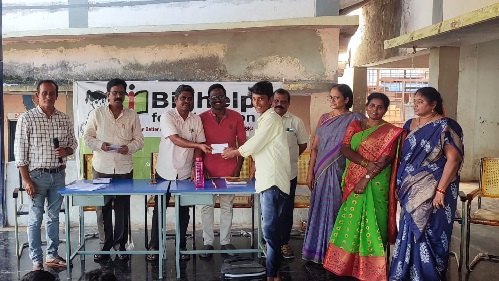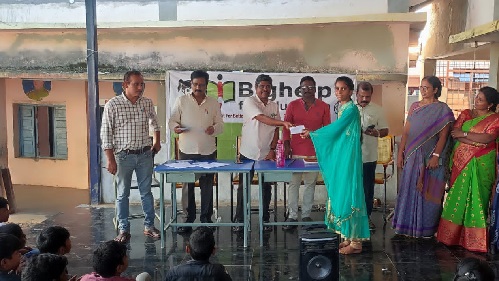 This Merit award has been established by Bighelp For Education to foster a competitive spirit among students studying in schools under Sathupally project located in Sathupally village, Khammam District of Telangana. This award considers all students equally irrespective of their individual financial strength, cast or religion. This endeavor sends a message among all students that every child is capable of achieving highest rank regardless of their school, gender, class, race, religion or disability.

This award carries a cash prize of Rs. 1000 first prize and Rs. 500 second prize for 10th class toppers and Rs.500/- for students from 6th to 9th class for both Telugu and English Mediums separately . A certificate also presented to the winning students of 10th class. Award is presented to the winners every year.

Following schools comes under this project:

1. Zilla Parishad Secondary School, Sathupally.


| Year | Class | Medium | Prize | Winner Name | School Name | Additional Info |
| --- | --- | --- | --- | --- | --- | --- |
| 2018-19 | 6th Grade | Telugu | 1st Prize | P. Shaheda | Z.P.S. School, Sathupally | She got 457 marks out of 600 |
| 2018-19 | 6th Grade | Telugu | 2nd Prize | L. Madhuri | Z.P.S. School, Sathupally | She got 450 marks out of 600 |
| 2018-19 | 7th Grade | Telugu | 1st Prize | N. Uma Maheswari | Z.P.S. School, Sathupally | She got 508 marks out of 600 |
| 2018-19 | 7th Grade | Telugu | 2nd Prize | G. Rajeswari | Z.P.S. School, Sathupally | She got 497 marks out of 600 |
| 2018-19 | 8th Grade | Telugu | 1st Prize | G. Harika | Z.P.S. School, Sathupally | She got 560 marks out of 600 |
| 2018-19 | 8th Grade | Telugu | 2nd Prize | S. Vineela | Z.P.S. School, Sathupally | She got 552 marks out of 600 |
| 2018-19 | 9th Grade | Telugu | 1st Prize | Sk. Moina | Z.P.S. School, Sathupally | She got 529 marks out of 600 |
| 2018-19 | 9th Grade | Telugu | 1st Prize | K. Naga Krishna Priya | Z.P.S. School, Sathupally | She got 519 marks out of 600 |
| 2018-19 | 10th Grade | Telugu | 1st Prize | V. Anusha | Z.P.S. School, Sathupally | She got 9.8 G.P.A. out of 10 |
| 2018-19 | 10th Grade | Telugu | 1st Prize | Sk. Ameena | Z.P.S. School, Sathupally | She got 9.3 G.P.A. out of 10 |
| 2018-19 | 10th Grade | Telugu | 2nd Prize | Sk. Karishma | Z.P.S. School, Sathupally | She got 9.3 G.P.A. out of 10 |
| 2019-20 | 6th Grade | Telugu | 1st Prize | P.Srilakshmi | Z.P.S. School, Sathupally | |
| 2019-20 | 6th Grade | Telugu | 2nd Prize | A.Pothana Sri Sankari | Z.P.S. School, Sathupally | |
| 2019-20 | 7th Grade | Telugu | 1st Prize | P.Shaheda | Z.P.S. School, Sathupally | |
| 2019-20 | 7th Grade | Telugu | 2nd Prize | L.Madhuri | Z.P.S. School, Sathupally | |
| 2019-20 | 8th Grade | Telugu | 1st Prize | N.Uma Maheswari | Z.P.S. School, Sathupally | |
| 2019-20 | 8th Grade | Telugu | 2nd Prize | G.Rajeswari | Z.P.S. School, Sathupally | |
| 2019-20 | 9th Grade | Telugu | 1st Prize | G.Harika | Z.P.S. School, Sathupally | |
| 2019-20 | 9th Grade | Telugu | 2nd Prize | S.Vineela | Z.P.S. School, Sathupally | |
| 2019-20 | 10th Grade | Telugu | 1st Prize | SK.Mohina | Z.P.S. School, Sathupally | |
| 2019-20 | 10th Grade | Telugu | 1st Prize | K.Naga Krishna Priya | Z.P.S. School, Sathupally | |
| 2019-20 | 10th Grade | Telugu | 1st Prize | K.Prathibha | Z.P.S. School, Sathupally | |
| 2020-21 | 6th Grade | English | 1st Prize | M.Madhu Sriya | Z.P.S. School, Sathupally | She got 499 marks out of 600 |
| 2020-21 | 6th Grade | English | 2nd Prize | Sk.Rabia Bhanu | Z.P.S. School, Sathupally | She got 461 marks out of 600 |
| 2020-21 | 7th Grade | Telugu | 1st Prize | D.Trivya | Z.P.S. School, Sathupally | She got 485 marks out of 600 |
| 2020-21 | 7th Grade | Telugu | 2nd Prize | I.Sreenu | Z.P.S. School, Sathupally | He got 414 marks out of 600 |
| 2020-21 | 8th Grade | Telugu | 1st Prize | P.Sri Laxmi | Z.P.S. School, Sathupally | He got 478 marks out of 600 |
| 2020-21 | 8th Grade | Telugu | 2nd Prize | A.Hemalatha | Z.P.S. School, Sathupally | She got 416 marks out of 600 |
| 2020-21 | 9th Grade | Telugu | 1st Prize | L.Madhuri | Z.P.S. School, Sathupally | She got 527 marks out of 600 |
| 2020-21 | 9th Grade | Telugu | 2nd Prize | P.Shaheda | Z.P.S. School, Sathupally | She got 522 marks out of 600 |
| 2020-21 | 10th Grade | Telugu | 1st Prize | N.Uma Maheswari | Z.P.S. School, Sathupally | She got 552 marks out of 600 |
| 2020-21 | 10th Grade | Telugu | 2nd Prize | G.Rajeswari | Z.P.S. School, Sathupally | She got 540 marks out of 600 |
| 2021-22 | 6th Grade | English | 1st Prize | Md. Rabiya banu | Z.P.S. School, Sathupally | She got 502 marks out of 600 |
| 2021-22 | 6th Grade | English | 2nd Prize | Ch. Akshaya | Z.P.S. School, Sathupally | She got 472 marks out of 600 |
| 2021-22 | 7th Grade | Telugu | 1st Prize | D. Thrivya | Z.P.S. School, Sathupally | She got 469 marks out of 600 |
| 2021-22 | 7th Grade | Telugu | 2nd Prize | I. Srinu | Z.P.S. School, Sathupally | He got 447 marks out of 600 |
| 2021-22 | 8th Grade | Telugu | 1st Prize | P. Srilakshmi | Z.P.S. School, Sathupally | She got 502 marks out of 600 |
| 2021-22 | 8th Grade | Telugu | 2nd Prize | P. Lalitha | Z.P.S. School, Sathupally | She got 444 marks out of 600 |
| 2021-22 | 9th Grade | Telugu | 1st Prize | P. Shaheda | Z.P.S. School, Sathupally | She got 566 marks out of 600 |
| 2021-22 | 9th Grade | Telugu | 2nd Prize | L. Madhuri | Z.P.S. School, Sathupally | She got 547 marks out of 600 |
| 2021-22 | 10th Grade | Telugu | 1st Prize | T. Sravya | Z.P.S. School, Sathupally | She got 9.5 out of 10 GPA |
| 2021-22 | 10th Grade | Telugu | 1st Prize | P. Ramya Sri | Z.P.S. School, Sathupally | She got 9.5 out of 10 GPA |
| 2021-22 | 10th Grade | Telugu | 1st Prize | Sk. Hussain Bee | Z.P.S. School, Sathupally | She got 9.5 out of 10 GPA |
| 2021-22 | 10th Grade | Telugu | 1st Prize | G. Sindu | Z.P.S. School, Sathupally | She got 9.5 out of 10 GPA |
| 2021-22 | 10th Grade | Telugu | 2nd Prize | G. Rajeswari | Z.P.S. School, Sathupally | She got 9.3 out of 10 GPA |
| 2022-23 | 6th Grade | English | 1st Prize | Sk. Himavali | Z.P.S. School, Sathupally | He got 526 marks out of 600 |
| 2022-23 | 6th Grade | English | 2nd Prize | Y. Abhinav | Z.P.S. School, Sathupally | He got 517 marks out of 600 |
| 2022-23 | 7th Grade | English | 1st Prize | Ch. Tulasi | Z.P.S. School, Sathupally | She got 549 marks out of 600 |
| 2022-23 | 7th Grade | English | 2nd Prize | Md. Rabiya banu | Z.P.S. School, Sathupally | She got 546 marks out of 600 |
| 2022-23 | 8th Grade | Telugu | 1st Prize | I. Srinu | Z.P.S. School, Sathupally | He got 447 marks out of 600 |
| 2022-23 | 8th Grade | Telugu | 2nd Prize | D. Thrivya | Z.P.S. School, Sathupally | She got 432 marks out of 600 |
| 2022-23 | 9th Grade | English | 1st Prize | P. Sri Lakshmi | Z.P.S. School, Sathupally | She got 555 marks out of 600 |
| 2022-23 | 9th Grade | English | 2nd Prize | P. Lalitha | Z.P.S. School, Sathupally | She got 467 marks out of 600 |
| 2022-23 | 10th Grade | | 1st Prize | L. Madhuri | Z.P.S. School, Sathupally | She got 9.8 out of 10 GPA |
| 2022-23 | 10th Grade | | 2nd Prize | M. Naresh | Z.P.S. School, Sathupally | He got 9.5 out of 10 GPA |
Donors sponsored this project
| Project Start Date | Project Current Status |
| --- | --- |
| 15-Aug-2019 | Active |