Project Details
Bighelp Award For Excellence - R.P. Colony
R.P. Colony, Medchal District, TS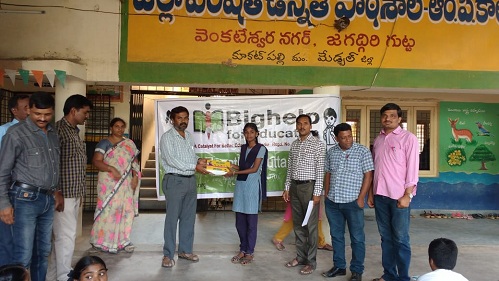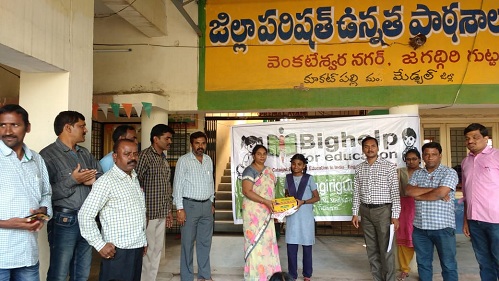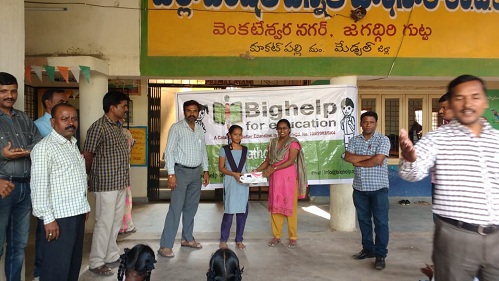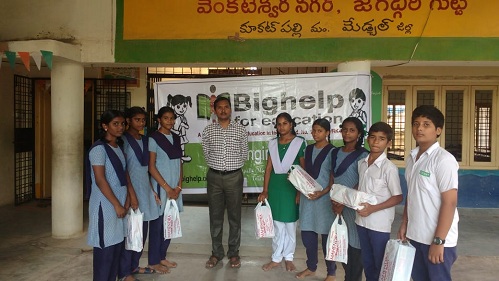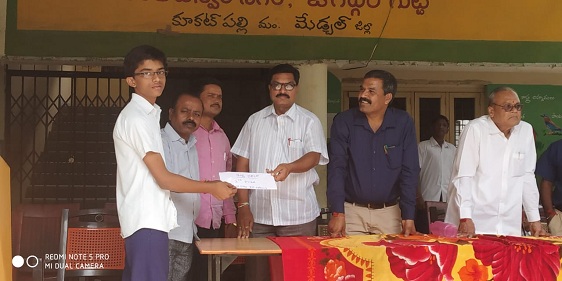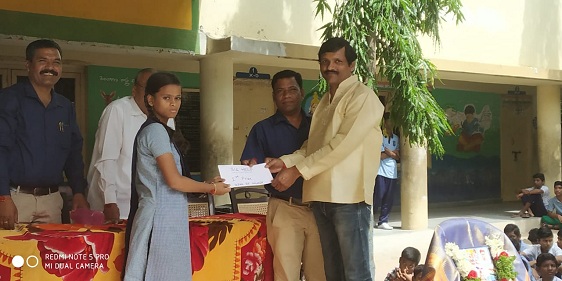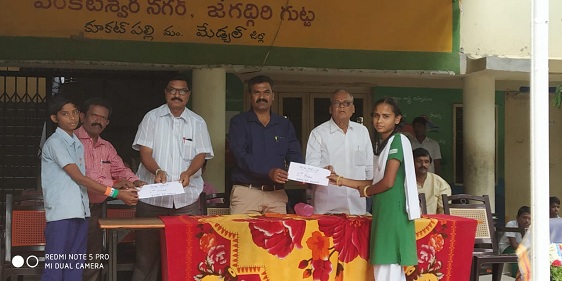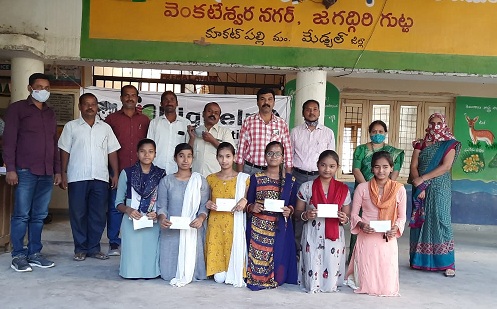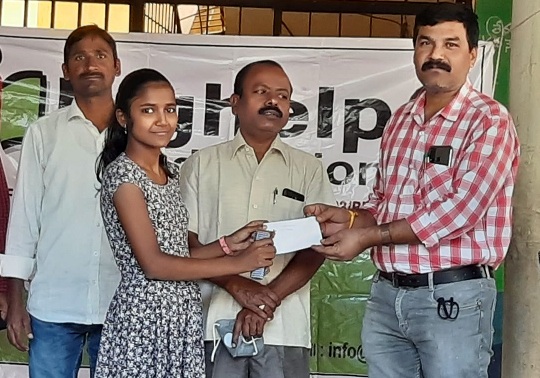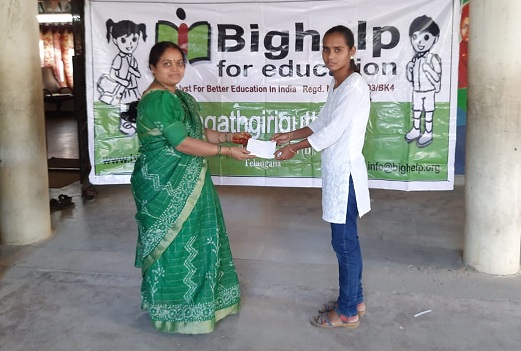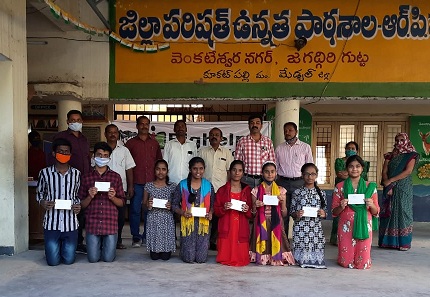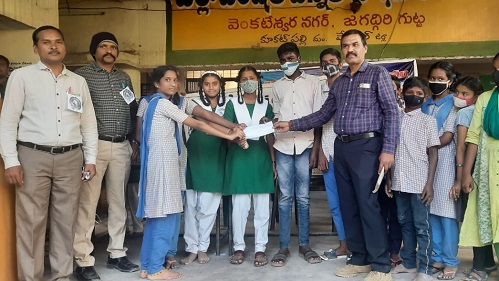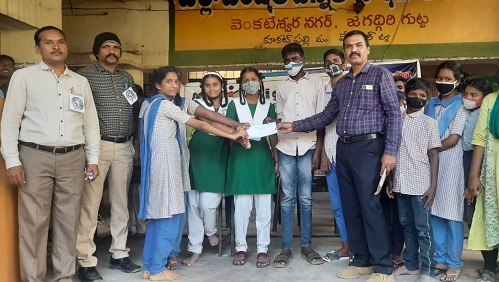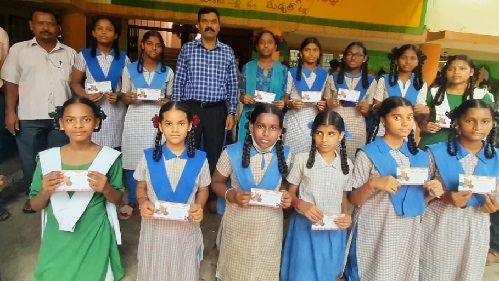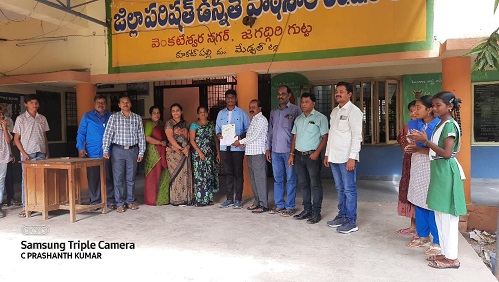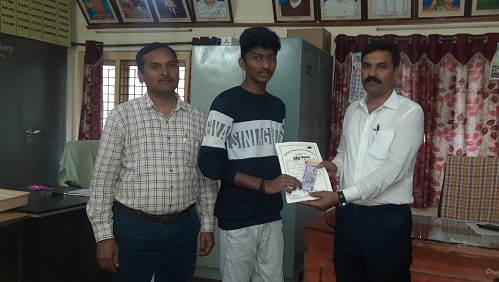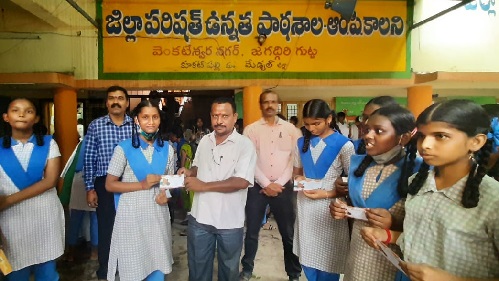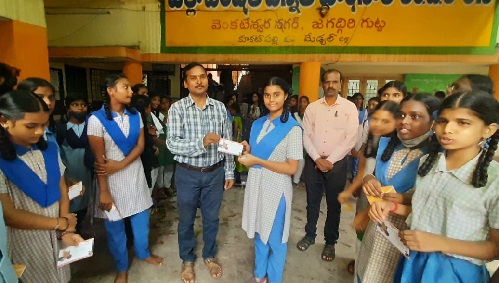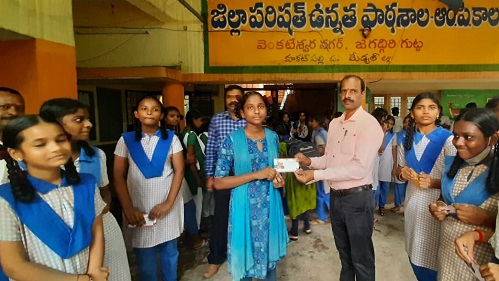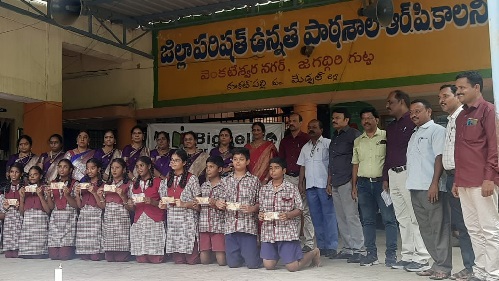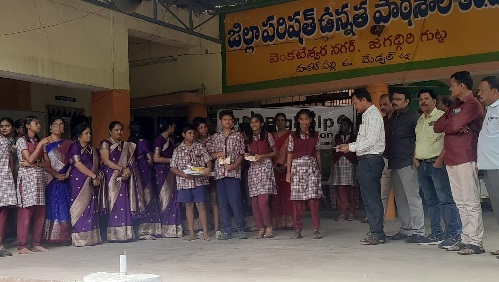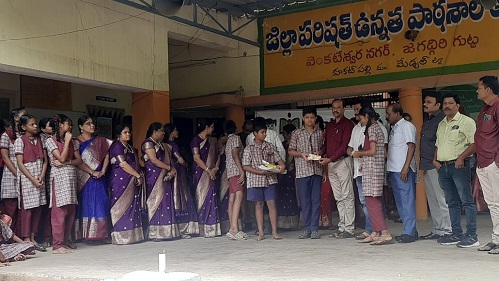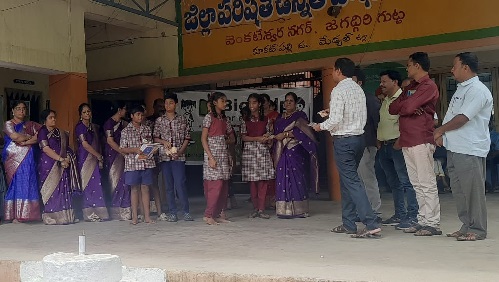 This Merit award has been established by Bighelp For Education to foster a competitive spirit among students studying in schools under R.P. Colony project located in R.P. Colony, Jagathgirigutta, Medchal District of Telangana state. This award considers all students equally irrespective of their individual financial strength, cast or religion. This endeavour sends a message among all students that every child is capable of achieving highest rank regardless of their school, gender, class, race, religion or disability.

This award carries a cash prize of Rs. 1000 first prize and Rs. 500 second prize for 10th class toppers and Rs.500/- for students from 6th to 9th class for both Telugu and English Mediums separately . A certificate also presented to the winning students of 10th class. Award is presented to the winners every year.

Following schools comes under this project:

1. Zilla Parishad High School, R.P. Colony.


| Year | Class | Medium | Prize | Winner Name | School Name | Additional Info |
| --- | --- | --- | --- | --- | --- | --- |
| 2017-18 | 6th Grade | Telugu | 1st Prize | Lavanya | ZPHS,RP Colony | She has got 396 marks out of 600 |
| 2017-18 | 6th Grade | Telugu | 2nd Prize | Seshu | ZPHS,RP Colony | He has got 347 marks out of 600 |
| 2017-18 | 7th Grade | Telugu | 1st Prize | Ch Sriram | ZPHS,RP Colony | He has got 448 marks out of 600 |
| 2017-18 | 7th Grade | Telugu | 2nd Prize | Komali | ZPHS,RP Colony | She has got 438 marks out of 600 |
| 2017-18 | 8th Grade | Telugu | 1st Prize | Sirivalli | ZPHS,RP Colony | She has got 402 marks out of 600 |
| 2017-18 | 8th Grade | Telugu | 2nd Prize | Sai Bindhu | ZPHS,RP Colony | She has got 401 marks out of 600 |
| 2017-18 | 9th Grade | Telugu | 1st Prize | Sachin | ZPHS,RP Colony | He has got 412 marks out of 600 |
| 2017-18 | 9th Grade | Telugu | 2nd Prize | Kavya | ZPHS,RP Colony | She has got 349 marks out of 600 |
| 2017-18 | 6th Grade | English | 1st Prize | Swathi | ZPHS,RP Colony | She has got 413 marks out of 600 |
| 2017-18 | 6th Grade | English | 2nd Prize | P Vinay | ZPHS,RP Colony | He has got 412 marks out of 600 |
| 2017-18 | 7th Grade | English | 1st Prize | D Poojitha | ZPHS,RP Colony | She has got 466 marks out of 600 |
| 2017-18 | 7th Grade | English | 2nd Prize | K.Poojitha | ZPHS,RP Colony | She has got 430 marks out of 600 |
| 2017-18 | 8th Grade | English | 1st Prize | Srilatha | ZPHS,RP Colony | She has got 408 marks out of 600 |
| 2017-18 | 8th Grade | English | 2nd Prize | Ajay Naik | ZPHS,RP Colony | He has got 343 marks out of 600 |
| 2017-18 | 9th Grade | English | 1st Prize | Mahesh Babu | ZPHS,RP Colony | He has got 500 marks out of 600 |
| 2017-18 | 9th Grade | English | 2nd Prize | Kanaka Durga | ZPHS,RP Colony | She has got 498 marks out of 600 |
| 2017-18 | 10th Grade | | 1st Prize | Tirumalateja | ZPHS,RP Colony | She has got GPA 9.8 out of 10 |
| 2017-18 | 10th Grade | | 2nd Prize | P Prasad | ZPHS,RP Colony | He has got GPA 9.5 out of 10 |
| 2018-19 | 6th Grade | Telugu | 1st Prize | Triveni | Z.P.H. School, R.P. Colony | She got 440 marks out of 600 |
| 2018-19 | 6th Grade | Telugu | 2nd Prize | Ch. Rohith | Z.P.H. School, R.P. Colony | He got 382 marks out of 600 |
| 2018-19 | 7th Grade | Telugu | 1st Prize | Lavanya | Z.P.H. School, R.P. Colony | She got 404 marks out of 600 |
| 2018-19 | 7th Grade | Telugu | 2nd Prize | Seshu | Z.P.H. School, R.P. Colony | He got 380 marks out of 600 |
| 2018-19 | 8th Grade | Telugu | 1st Prize | Bhavana | Z.P.H. School, R.P. Colony | She got 445 marks out of 600 |
| 2018-19 | 8th Grade | Telugu | 2nd Prize | Neelima | Z.P.H. School, R.P. Colony | She got 430 marks out of 600 |
| 2018-19 | 9th Grade | Telugu | 1st Prize | N. Snigdha | Z.P.H. School, R.P. Colony | She got 415 marks out of 600 |
| 2018-19 | 9th Grade | Telugu | 2nd Prize | Nandini | Z.P.H. School, R.P. Colony | She got 404 marks out of 600 |
| 2018-19 | 6th Grade | English | 1st Prize | Ch. Pooja | Z.P.H. School, R.P. Colony | She got 472 marks out of 600 |
| 2018-19 | 6th Grade | English | 2nd Prize | Usha Rani | Z.P.H. School, R.P. Colony | She got 453 marks out of 600 |
| 2018-19 | 7th Grade | English | 1st Prize | P. Vinay | Z.P.H. School, R.P. Colony | He got 481 marks out of 600 |
| 2018-19 | 7th Grade | English | 2nd Prize | Srestavi | Z.P.H. School, R.P. Colony | She got 479 marks out of 600 |
| 2018-19 | 8th Grade | English | 1st Prize | K. Poojitha | Z.P.H. School, R.P. Colony | She got 452 marks out of 600 |
| 2018-19 | 8th Grade | English | 2nd Prize | Venakt Sai Trivedi | Z.P.H. School, R.P. Colony | He got 434 marks out of 600 |
| 2018-19 | 9th Grade | English | 1st Prize | K. Srivani | Z.P.H. School, R.P. Colony | He got 516 marks out of 600 |
| 2018-19 | 9th Grade | English | 2nd Prize | Siva Prasanna | Z.P.H. School, R.P. Colony | She got 497 marks out of 600 |
| 2018-19 | 10th Grade | | 1st Prize | Viswa Vathsa | Z.P.H. School, R.P. Colony | She got 9.5 G.P.A. out of 10 |
| 2018-19 | 10th Grade | | 2nd Prize | Venkateswarlu | Z.P.H. School, R.P. Colony | He got 9.3 G.P.A. out of 10 |
| 2018-19 | 10th Grade | | 2nd Prize | Anu Sophyia | Z.P.H. School, R.P. Colony | She got 9.3 G.P.A. out of 10 |
| 2018-19 | 10th Grade | | 2nd Prize | Kanaka Durga | Z.P.H. School, R.P. Colony | She got 9.3 G.P.A. out of 10 |
| 2018-19 | 10th Grade | | 2nd Prize | P. Anusha | Z.P.H. School, R.P. Colony | She got 9.3 G.P.A. out of 10 |
| 2019-20 | 6th Grade | Telugu | 1st Prize | D.Vaishanavi Devi | Z.P.H. School, R.P. Colony | |
| 2019-20 | 6th Grade | Telugu | 2nd Prize | K.Bhargavi | Z.P.H. School, R.P. Colony | |
| 2019-20 | 7th Grade | Telugu | 1st Prize | Pooja | Z.P.H. School, R.P. Colony | |
| 2019-20 | 7th Grade | Telugu | 2nd Prize | Triveni | Z.P.H. School, R.P. Colony | |
| 2019-20 | 8th Grade | Telugu | 1st Prize | Lavanya | Z.P.H. School, R.P. Colony | |
| 2019-20 | 8th Grade | Telugu | 2nd Prize | Sailaxmi | Z.P.H. School, R.P. Colony | |
| 2019-20 | 9th Grade | Telugu | 1st Prize | M.Avinash | Z.P.H. School, R.P. Colony | |
| 2019-20 | 9th Grade | Telugu | 2nd Prize | Sony Meghana | Z.P.H. School, R.P. Colony | |
| 2019-20 | 6th Grade | English | 1st Prize | Nandini | Z.P.H. School, R.P. Colony | |
| 2019-20 | 6th Grade | English | 2nd Prize | Shobha | Z.P.H. School, R.P. Colony | |
| 2019-20 | 8th Grade | English | 1st Prize | Srestavi | Z.P.H. School, R.P. Colony | |
| 2019-20 | 8th Grade | English | 2nd Prize | Pravalika | Z.P.H. School, R.P. Colony | |
| 2019-20 | 8th Grade | English | 2nd Prize | Swathi | Z.P.H. School, R.P. Colony | |
| 2019-20 | 9th Grade | English | 1st Prize | Ch.Sriram | Z.P.H. School, R.P. Colony | |
| 2019-20 | 9th Grade | English | 2nd Prize | Emanwel | Z.P.H. School, R.P. Colony | |
| 2019-20 | 10th Grade | | 1st Prize | P.Priyanka | Z.P.H. School, R.P. Colony | She got 10 out of 10 GPA |
| 2019-20 | 10th Grade | | 1st Prize | Ch.Yeshma | Z.P.H. School, R.P. Colony | She got 10 out of 10 GPA |
| 2019-20 | 10th Grade | | 1st Prize | M.Srilatha | Z.P.H. School, R.P. Colony | She got 10 out of 10 GPA |
| 2019-20 | 10th Grade | | 1st Prize | K.Sriveni | Z.P.H. School, R.P. Colony | She got 10 out of 10 GPA |
| 2019-20 | 10th Grade | | 1st Prize | G.Durga Bhavani | Z.P.H. School, R.P. Colony | She got 10 out of 10 GPA |
| 2020-21 | 6th Grade | Telugu | 1st Prize | Blessy | Z.P.H. School, R.P. Colony | She got 243 marks out of 600 |
| 2020-21 | 6th Grade | Telugu | 2nd Prize | Ludhiya | Z.P.H. School, R.P. Colony | She got 216 marks out of 600 |
| 2020-21 | 7th Grade | Telugu | 1st Prize | S. Raju | Z.P.H. School, R.P. Colony | He got 357 marks out of 600 |
| 2020-21 | 7th Grade | Telugu | 2nd Prize | B.Nandini | Z.P.H. School, R.P. Colony | She got 340 marks out of 600 |
| 2020-21 | 8th Grade | Telugu | 1st Prize | Anusha | Z.P.H. School, R.P. Colony | She got 380 marks out of 600 |
| 2020-21 | 9th Grade | Telugu | 1st Prize | Vennela | Z.P.H. School, R.P. Colony | She got 396 marks out of 600 |
| 2020-21 | 9th Grade | Telugu | 2nd Prize | A. Vani | Z.P.H. School, R.P. Colony | She got 265 marks out of 600 |
| 2020-21 | 8th Grade | Telugu | 2nd Prize | Nagesh | Z.P.H. School, R.P. Colony | He got 360 marks out of 600 |
| 2020-21 | 6th Grade | English | 1st Prize | Manoj | Z.P.H. School, R.P. Colony | He got 341 marks out of 600 |
| 2020-21 | 6th Grade | English | 2nd Prize | B. Nandhini | Z.P.H. School, R.P. Colony | She got 318 marks out of 600 |
| 2020-21 | 7th Grade | English | 1st Prize | M. Lasya | Z.P.H. School, R.P. Colony | She got 425 marks out of 600 |
| 2020-21 | 7th Grade | English | 2nd Prize | Harshitha | Z.P.H. School, R.P. Colony | She got 330 marks out of 600 |
| 2020-21 | 8th Grade | English | 1st Prize | K. Bhargavi | Z.P.H. School, R.P. Colony | She got 333 marks out of 600 |
| 2020-21 | 8th Grade | English | 2nd Prize | M. Vaishnavi | Z.P.H. School, R.P. Colony | She got 319 marks out of 600 |
| 2020-21 | 9th Grade | English | 1st Prize | Varshitha | Z.P.H. School, R.P. Colony | She got 410 marks out of 600 |
| 2020-21 | 9th Grade | English | 2nd Prize | Usharani | Z.P.H. School, R.P. Colony | She got 400 marks out of 600 |
| 2020-21 | 10th Grade | Telugu | 1st Prize | Sheshu | Z.P.H. School, R.P. Colony | He got 478 marks out of 600 |
| 2020-21 | 10th Grade | Telugu | 2nd Prize | M. Lavanya | Z.P.H. School, R.P. Colony | She got 346 marks out of 600 |
| 2020-21 | 10th Grade | English | 1st Prize | P. Vinay | Z.P.H. School, R.P. Colony | He got 475 marks out of 600 |
| 2020-21 | 10th Grade | English | 2nd Prize | T. Srestavi | Z.P.H. School, R.P. Colony | She got 360 marks out of 600 |
| 2021-22 | 6th Grade | Telugu | 1st Prize | N. Blessy | Z.P.H. School, R.P. Colony | She got 331 marks out of 600 |
| 2021-22 | 6th Grade | Telugu | 2nd Prize | M. Supraja | Z.P.H. School, R.P. Colony | She got 318 marks out of 600 |
| 2021-22 | 7th Grade | Telugu | 1st Prize | B. Nandhini | Z.P.H. School, R.P. Colony | She got 400 marks out of 600 |
| 2021-22 | 7th Grade | Telugu | 2nd Prize | V. Harshitha | Z.P.H. School, R.P. Colony | She got 363 marks out of 600 |
| 2021-22 | 8th Grade | Telugu | 1st Prize | Indu Priya | Z.P.H. School, R.P. Colony | She got 320 marks out of 600 |
| 2021-22 | 8th Grade | Telugu | 2nd Prize | Shivamma | Z.P.H. School, R.P. Colony | She got 318 marks out of 600 |
| 2021-22 | 9th Grade | Telugu | 1st Prize | S. Vennela | Z.P.H. School, R.P. Colony | She got 388 marks out of 600 |
| 2021-22 | 9th Grade | Telugu | 2nd Prize | K. Rohith | Z.P.H. School, R.P. Colony | He got 329 marks out of 600 |
| 2021-22 | 6th Grade | English | 1st Prize | A. Swetha | Z.P.H. School, R.P. Colony | She got 550 marks out of 600 |
| 2021-22 | 6th Grade | English | 2nd Prize | J. Divya | Z.P.H. School, R.P. Colony | |
| 2021-22 | 7th Grade | English | 1st Prize | Revathi Rani | Z.P.H. School, R.P. Colony | She got 425 marks out of 600 |
| 2021-22 | 7th Grade | English | 2nd Prize | D. Bhavitha | Z.P.H. School, R.P. Colony | She got 415 marks out of 600 |
| 2021-22 | 8th Grade | English | 1st Prize | G. Nandini | Z.P.H. School, R.P. Colony | She got 448 marks out of 600 |
| 2021-22 | 8th Grade | English | 2nd Prize | J. Deepika | Z.P.H. School, R.P. Colony | She got 427 marks out of 600 |
| 2021-22 | 9th Grade | English | 1st Prize | K. Varshitha | Z.P.H. School, R.P. Colony | She got 422 marks out of 600 |
| 2021-22 | 9th Grade | English | 2nd Prize | Usharani | Z.P.H. School, R.P. Colony | She got 400 marks out of 600 |
| 2021-22 | 10th Grade | | 1st Prize | B. Akshay | Z.P.H. School, R.P. Colony | He got 9.5 out of 10 GPA |
| 2021-22 | 10th Grade | | 1st Prize | Likitha | Z.P.H. School, R.P. Colony | She got 9.5 out of 10 GPA |
| 2021-22 | 10th Grade | | 1st Prize | Varun Sandesh | Z.P.H. School, R.P. Colony | He got 9.5 out of 10 GPA |
| 2021-22 | 10th Grade | | 2nd Prize | Lavanya | Z.P.H. School, R.P. Colony | She got 9.2 out of 10 GPA |
| 2022-23 | 6th Grade | Telugu | 1st Prize | K. Akshaya | Z.P.H. School, R.P. Colony | She got 490 marks out of 600 |
| 2022-23 | 6th Grade | Telugu | 2nd Prize | P. Lakshmi Anand | Z.P.H. School, R.P. Colony | He got 425 marks out of 600 |
| 2022-23 | 7th Grade | Telugu | 1st Prize | M. Aradhana | Z.P.H. School, R.P. Colony | She got 425 marks out of 600 |
| 2022-23 | 7th Grade | Telugu | 2nd Prize | K. Haritha | Z.P.H. School, R.P. Colony | She got 410 marks out of 600 |
| 2022-23 | 8th Grade | Telugu | 1st Prize | G. Sucharitha | Z.P.H. School, R.P. Colony | She got 445 marks out of 600 |
| 2022-23 | 8th Grade | Telugu | 2nd Prize | B. Bhavitha | Z.P.H. School, R.P. Colony | She got 435 marks out of 600 |
| 2022-23 | 9th Grade | Telugu | 1st Prize | Srinidhi | Z.P.H. School, R.P. Colony | She got 492 marks out of 600 |
| 2022-23 | 9th Grade | Telugu | 2nd Prize | Bhargavi | Z.P.H. School, R.P. Colony | She got 473 marks out of 600 |
| 2022-23 | 6th Grade | English | 1st Prize | B. Pravas | Z.P.H. School, R.P. Colony | He got 479 marks out of 600 |
| 2022-23 | 6th Grade | English | 2nd Prize | A. Benarjee | Z.P.H. School, R.P. Colony | He got 452 marks out of 600 |
| 2022-23 | 7th Grade | English | 1st Prize | B. Nikitha | Z.P.H. School, R.P. Colony | She got 499 marks out of 600 |
| 2022-23 | 7th Grade | English | 2nd Prize | E. Peethi | Z.P.H. School, R.P. Colony | She got 484 marks out of 600 |
| 2022-23 | 8th Grade | English | 1st Prize | B. Nandhini | Z.P.H. School, R.P. Colony | She got 425 marks out of 600 |
| 2022-23 | 8th Grade | English | 2nd Prize | S. Raju | Z.P.H. School, R.P. Colony | He got 342 marks out of 600 |
| 2022-23 | 9th Grade | English | 1st Prize | Shivamma | Z.P.H. School, R.P. Colony | |
| 2022-23 | 9th Grade | English | 2nd Prize | Indu Priya | Z.P.H. School, R.P. Colony | |
| 2022-23 | 10th Grade | Telugu | 1st Prize | Usharani | Z.P.H. School, R.P. Colony | She got 9.5 out of 10 GPA |
| 2022-23 | 10th Grade | Telugu | 2nd Prize | Gayatri | Z.P.H. School, R.P. Colony | She got 9.2 out of 10 GPA |
Donors sponsored this project
| Project Start Date | Project Current Status |
| --- | --- |
| 15-Aug-2018 | Active |