Project Details
Provided Running water facility to M.P.P. School - Laxmipuram
Laxmipuram, Visakhapatnam District, AP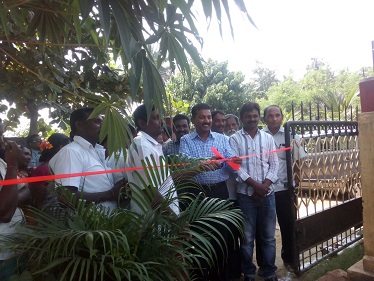 Bighelp donated pipe line, syntex tank to provide running water facility to toilets to Mandal Parishad Primary School located at Laxmipuram village, Visakhapatnam district


The water facility provided by Bighelp at this school helped 109 students to use toilets with hygienic condition with our carrying buckets of water for their usage.


Media Coverage
09-Nov-2016 News Published in Eenadu on 09-11-2016
Project Geographic Information
Laxmipuram is a Village in Chodavaram Mandal in Visakhapatanam District of Andhra Pradesh State, India. It is located 39 KM towards west from District head quarters Visakhapatnam. 555 KM from Hyderabad.


School Information
Mandal Parishad Primary School is situated in Laxmipuram village and it was established in 1923. It is co education school with present strength of 109 students and 6 teachers.


Project Inaugural Information
The Inauguration program was conducted by Bighelp on 08-11-2016 at the School premises and inaugurated the pipeline. The following personnel have attend the donation program

1. Mr. Chand Pasha Shaik - President, Bighelp
2. Mrs. M. Sarojini – Managing Trustee, Bighelp
3. Mr. S. Seshagiri Rao – Head master Z.P.H. School Laxmipuram
4. Mr. G. Srinivas Rao - Head master M.P.P. School Laxmipuram,
5. Mr. B. Nani Kumar – Vice M.P.P.
6. Mr. S. Adi Ganapathinaidu – Surpanch
7. Mr. S. Satya Rao – Ex. Surpanch
8. Mr. T. Appalanaidu – S.M.C. Chairman
9. School staff and students

Mr. Chand Pasha has explained the motto behind establishing Bighelp organization, its vision and values on which it is based and working.

Mrs. Sarojini has enlightened the efforts taken by Bighelp Chairman Mr. Chand Pasha to eradicate illiteracy in India.

H.M. and other dignitaries have spoken on the education necessity and advised the students to utilize this rare opportunity to come up in education.


Project Survey Information
Bighelp has received request from Mr. Srinivas Head Master of the school for running water facility to toilets from water tank. Due to lack of running water facility students are carrying buckets of water for their usage. Hence Bighelp came forward to provide water facility.


More Projects At This Location
Sponsor A Child - Laxmipuram, Year 2021 - 22
Sponsor A Child - Laxmipuram, Year 2020 - 21
Sponsor A Child - Laxmipuram, Year 2019 - 20
Quiz Program - Laxmipuram Year 2019
Provided Sports Material- Laxmipuram - Year 2018
Sponsor A Child - Laxmipuram, Year 2018 -19
Sponsor A Child - Laxmipuram, Year 2017 -18
Sponsor A Child - Laxmipuram, Year 2016 -17
Sports Meet - Laxmipuram - Year 2015
Sponsor A Child - Laxmipuram, Year 2015 -16
Quiz Program - Laxmipuram Year 2014
Sports Meet - Laxmipuram - Year 2014
Sponsor A Child - Laxmipuram, Year 2014-15
Sports Meet - Laxmipuram - Year 2013
Sponsor A Child - Laxmipuram, Year 2013-14
Sponsor A Child - Laxmipuram, Year 2012-13
Construction of Library at Lakshmipuram Z.P. High School
Kancherla Award For Excellence - Chodavaram
| Project Start Date | Project Current Status |
| --- | --- |
| 14-Oct-2016 | Active |