Project Details
Provided Infrastructure to MPUP School at Macherla
Jammalamadaka, Guntur District, AP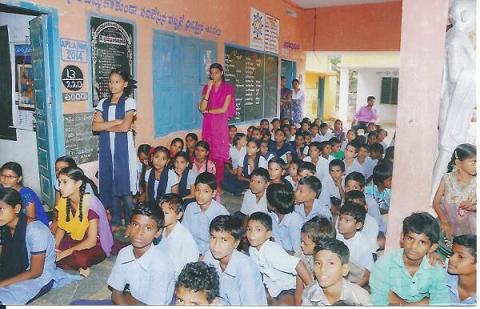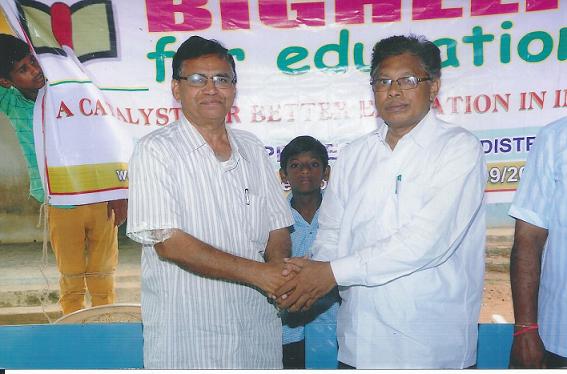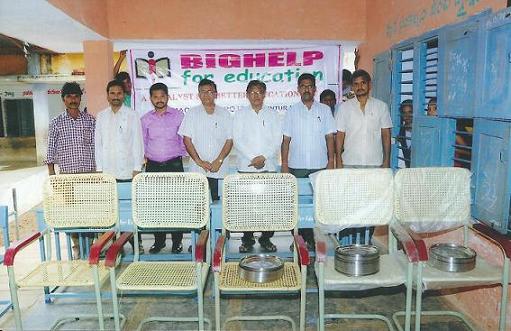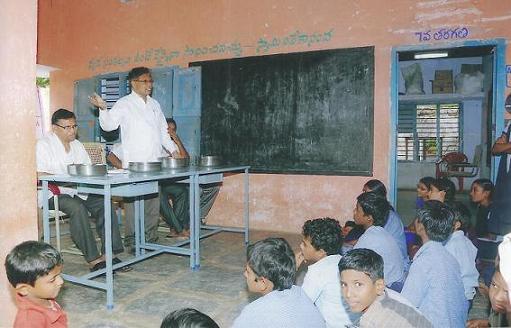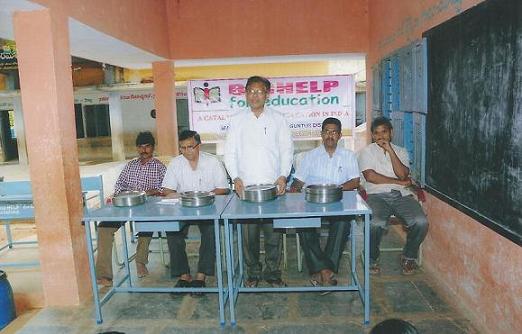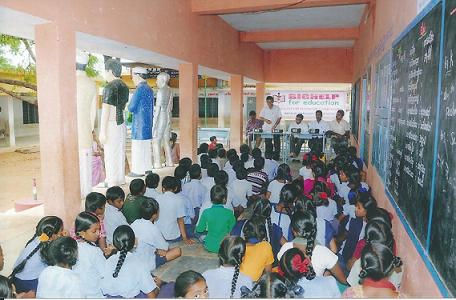 Bighelp donated benches with desks, meals plates for students and chairs for staff of Mandal Parishad Upper Primary School Jammalamadaka, Macherla Mandal, Guntur district.


Bighelp has received request from Sri. Kondalu Head Master of the school for provision of seating arrangement in class rooms for students and staff. In this School midday meals program being carried out by the Government of AP. The students are suffering due to lack of sufficient meals plates. The parents of the students cannot afford to provide the plates due to their poverty. The Head Master confirmed this and also requested to provide meals plates in his request letter. Hence Bighelp has taken up the project and provided 100 meals plates, benches and chairs


Project Geographic Information
The Mandal Parishad Upper Primary school is situated in Amani Jammalamadaka village, Macherla Mandal in Guntur District. Macherla is about 185 KMS away from Hyderabad. There are different mode of transport facilities are available from Hyderabad to reach Macherla.


School Information
The school was established in 1980 with a strength of 451 students and 11 permanent teachers.


Project Inaugural Information
The donation program was conducted by Bighelp on 28-08-2014 at the School premises and donated the benches, Chairs and Meals plates. The following personnel have attend the donation program

1. Sri. P. Sriramulu Bighelp Representative
2. Sri. V. Kondalu Head Master MPUP School
3. Sri. Rama Krishna Rao PCC Macherla Project
4. School staff and students

Sri. Sriramulu has explained the formation of Bighelp For Education, its aims and present activities of the organization

Sri V. Kondalu has thanked the organization for providing infrastructure to their school


| Name | Designation | Email | Phone Number |
| --- | --- | --- | --- |
| Bhaskara Babu Tati | Project Director | bhaskarababu.tati@gmail.com | 9441112388 9381080139 |
| Rama Rao Meenaga | Project Committee Chairman | ramaraoss16@gmail.com | 9866696190 |
More Projects At This Location
Provided Study Material and Volunteer for NMMS Coaching - Macherla 2023
Providing Vidya Volunteer in MPPSchool - Macherla
Sponsor A Child - Higher Education Zone - Macherla - Year 2023 - 24
Sponsor A Child - Macherla, Year 2023 - 24
Sports Meet - Macherla - Year 2022
Provided NMMS books and Volunteer for Coaching - Macherla 2022-23
Sponsor A Child - Higher Education Zone - Macherla - Year 2022 - 23
Sponsor A Child - Macherla, Year 2022 - 23
Provided Volunteer for NMMS Coaching - Macherla
Sponsor A Child - Higher Education Zone - Macherla - Year 2021 - 22
Sponsor A Child - Macherla, Year 2021 - 22
Provided NMMS Material to Z.P.G.H. School-Macherla
Sponsor A Child - Higher Education Zone - Macherla - Year 2020 - 21
Sponsor A Child - Macherla, Year 2020 - 21
Provided Cycle shed to Z.P.B.H. School - Macherla
Sponsor A Child - Higher Education Zone - Macherla - Year 2019 - 20
Sponsor A Child - Macherla, Year 2019 - 20
Quiz Program - Macherla Year 2018
Dasari Swarajyalakshmi & Venkata Subba Rao - Macherla
Gutta Saroja Devi & Sivarama Krishnaiah - Macherla
Sponsor A Child - Macherla, Year 2018 - 19
Sponsor A Child - Higher Education Zone - Macherla - Year 2018 - 19
Donated Almirahs to M.P.P. School - Tallapalli
Quiz Program - Macherla Year 2017
Distributed Notebooks to MPP School, Tallapalli
Sponsor A Child - Macherla, Year 2017 - 18
Bighelp Award For Excellence - Macherla
Sports Meet - Macherla - Year 2016
Sponsor A Child - Macherla, Year 2016 - 17
Sponsor A Child - Macherla, Year 2015 - 16
Sponsor A Child - Macherla, Year 2014 - 15
Sponsor A Child - Macherla, Year 2013 - 14
Sponsor A Child - Macherla, Year 2012 - 13
Sponsor A Child - Macherla, Year 2011 - 12
Sports Meet - Macherla - Year 2010
Sponsor A Child - Macherla, Year 2010 - 11
Sponsor A Child - Macherla, Year 2009 - 10
Pullela Award For Excellence - Macherla
Sponsor A Child - Macherla, Year 2008 - 09
Sponsor A Child - Macherla, Year 2007 - 2008
Sponsor A Child - Macherla, Year 2006-07
Donors sponsored this project
| Project Start Date | Project Current Status |
| --- | --- |
| 01-Jun-2014 | Completed |