Project Details
Rajan Foundation Award For Excellence - Kodumuru
Kodumuru, Khammam District, AP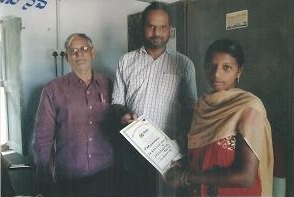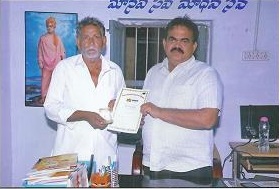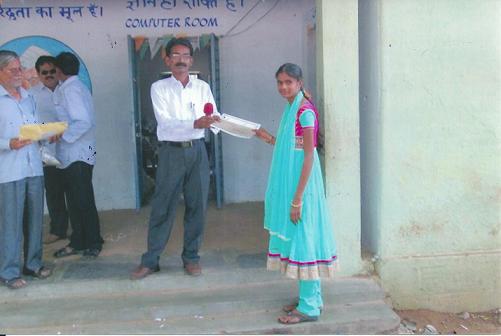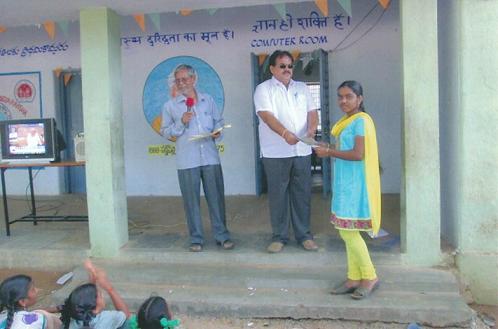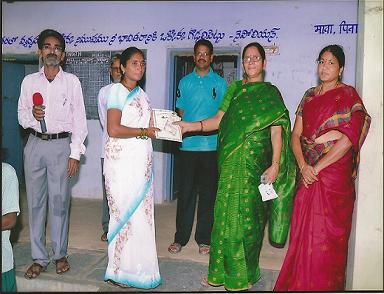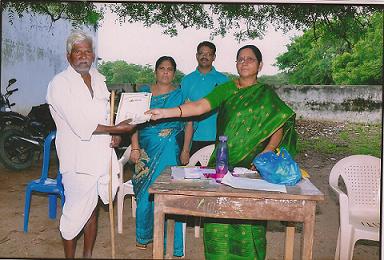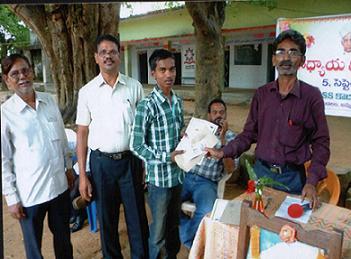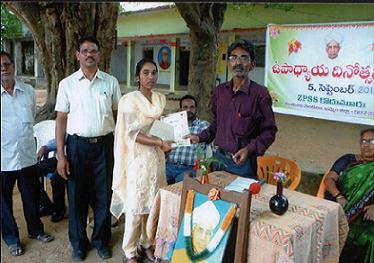 This Merit award has been established by Mr. Siva Kumar to foster a competitive spirit among students studying in schools under Kodumuru project located in Konijerla Mandal, Khammam District of Andhra Pradesh. This award considers all students equally irrespective of their individual financial strength, cast or religion. This endeavor sends a message among all students that every child is capable of achieving highest rank regardless of their school, gender, class, race, religion or disability.

This award carries a cash prize of Rs.1500 every year which is given to students that score highest marks in 10th class in all schools under Kodumuru project. The first prize carries a cash award of Rs.1000 and the second prize Rs.500. A certificate also presented to the winning students. Award is presented to the winners on 5th September every year.

Following schools comes under this project:

Zilla Parishad Secondary School, Kodumuru.

Comments
Award winners for the year 2015-16
Dt:06-Sep-2016
Awards were presented on 05th September 2016 by Bighelp project committee at Zilla Parishad Secondary School Kodumuru
Award Winners for the year 2014 - 15
Dt:05-Sep-2015
1st Prize: Gouse Pasha –Zilla Parishad Secondary School, Vandanam – G.P.A 8.3 out of 10

2nd Prize: Krishnaveni –Zilla Parishad Secondary School, Vandanam – G.P.A. 7.8 out of 10.

Awards were presented on 05th September 2015 by Bighelp project committee at Zilla Parishad Secondary School Kodumuru


Award winners for the year 2013-2014
Dt:05-Sep-2014
1st Prize: Rajya Lakshmi –Zilla Parishad Secondary School, Kodumuru – G.P.A 9.5 out of 10

2nd Prize: Rajasri Kanneboina –Zilla Parishad Secondary School, Kodumuru – G.P.A. 9.3 out of 10.

Awards were presented on 05th September 2014 by Bighelp project committee at Zilla Parishad Secondary School Kodumuru


Award Winners for the year 2012-2013
Dt:05-Sep-2013
1st Prize: Sandeep Gollamandala - Zilla Parishad Secondary School, Chintakani – GPA 8.8 out of 10

2nd Prize: Madhavi Mittapalli - Zilla Parishad Secondary School, Kodumuru – GPA 8.5 out of 10.

Awards were presented on 5th September 2013 by Bighelp project committee at Zilla Parishad Secondary School Kodumuru


Award Winners for the year 2011-2012
Dt:05-Sep-2012
1st Prize: Sai Prasanna Kumar - Zilla Parishad Secondary School, Kodumuru– GPA 9.7 out of 10

2nd Prize: Harish - Zilla Parishad Secondary School, Kodumuru – GPA 9.5 out of 10.

Awards were presented on 5th September 2012 by Bighelp project committee at Zilla Parishad Secondary School Kodumuru


Award Winners for the year 2010-2011
Dt:05-Sep-2011
1st Prize: Praveen Kumar - Zilla Parishad Secondary School, Kodumuru– 558 marks out of 600

2nd Prize: Renuka- Zilla Parishad Secondary School, Kodumuru – 540 marks out of 600.

Awards were presented on 5th September 2011 by Bighelp project committee at Zilla Parishad Secondary School Kodumuru


More Projects At This Location
Sponsor A Child - Kodumuru, Year 2022 - 23
Sponsor A Child - Kodumuru, Year 2021 - 22
Provided NMMS Material to Z.P. H. School-Kodumuru
Sponsor A Child - Kodumuru, Year 2020 - 21
Sports Meet - Kodumuru - Year 2020
Sponsor A Child - Kodumuru, Year 2019 - 20
Sponsor A Child - Kodumuru, Year 2018 - 19
Sports Meet - Kodumuru - Year 2017
Sponsor A Child - Kodumuru, Year 2017 - 18
Sports Meet - Kodumuru - Year 2016
Sponsor A Child - Kodumuru, Year 2016 - 17
Sports Meet - Kodumuru - Year 2015
Sponsor A Child - Kodumuru, Year 2015 - 16
Sports Meet - Kodumuru - Year 2014
Sponsor A Child - Kodumuru, Year 2014 - 15
Sports Meet - Kodumuru - Year 2013
Sponsor A Child - Kodumuru, Year 2013 - 14
Sports Meet - Kodumuru - Year 2012
Sponsor A Child - Kodumuru, Year 2012 - 13
Sponsor A Child - Kodumuru, Year 2011 - 12
Bighelp Award For Excellence - Kodumuru
Sponsor A Child - Kodumuru, Year 2010 - 11
Sponsor A Child - Kodumuru, Year 2009 - 10
Donors sponsored this project
| Project Start Date | Project Current Status |
| --- | --- |
| 05-Sep-2011 | Active |