Project Details
Prabhakar Lallan Award For Excellence In Literature - Manakondur
Manakondur, Karimnagar District, Telangana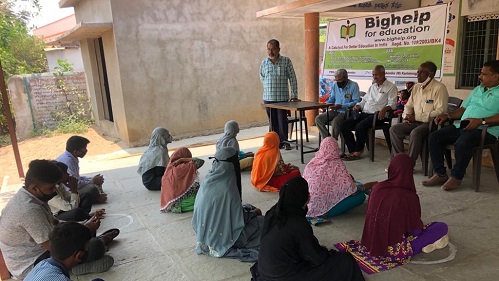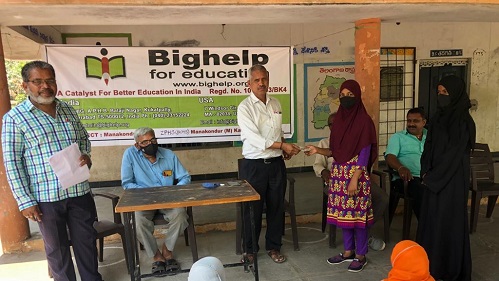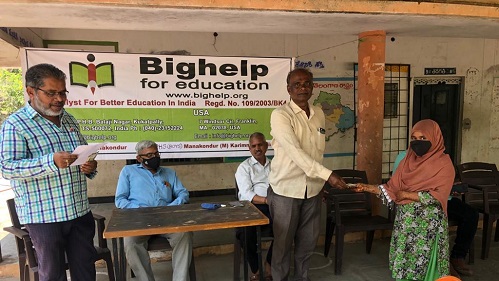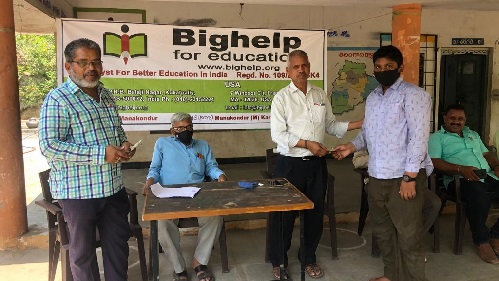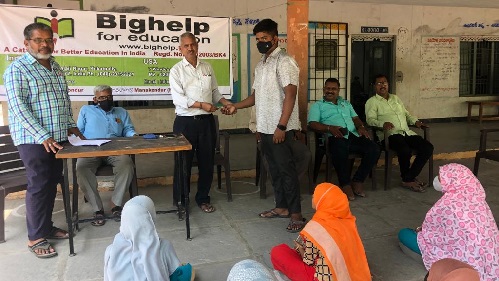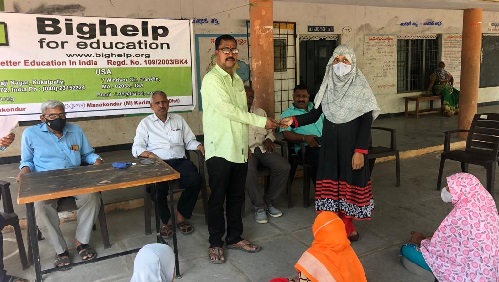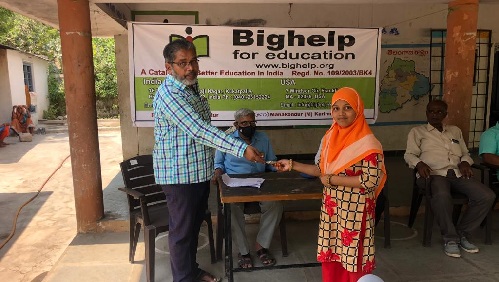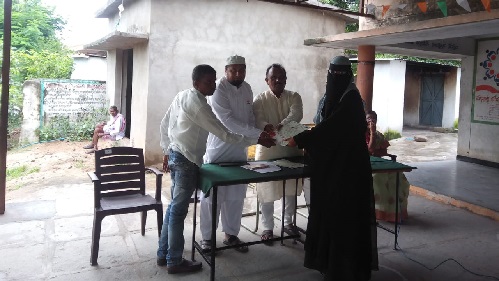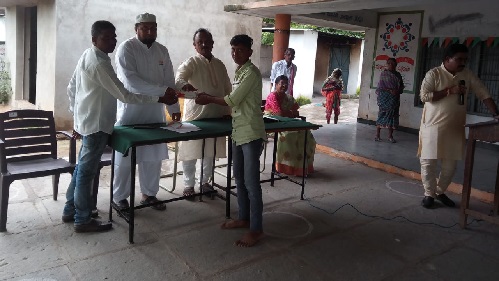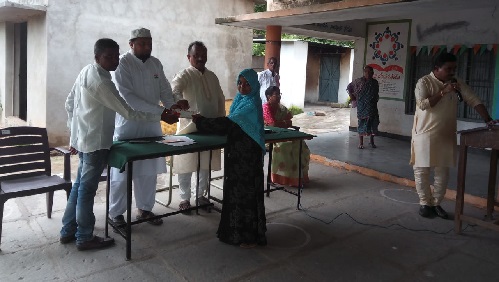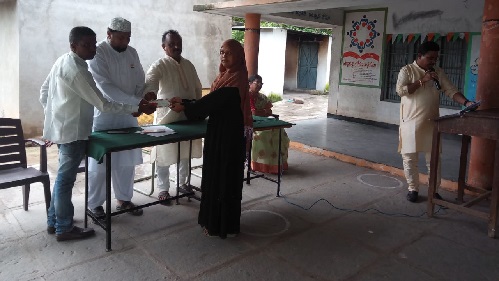 This Merit award has been established by Rajesh Raj to foster a competitive spirit among the students studying in Zilla Parishad Boys High School, Urdu Medium Manakondur. This award considers all students equally irrespective of their individual financial strength, cast or religion. This endeavor sends a message among all students that every child is capable of achieving highest rank regardless of their school, gender, class, race, religion or disability.

This award carries a cash prize of Rs. 4000 first prize and Rs. 2000 second prize for 10th class toppers and Rs.1000/- for students from 6th to 9th class for both Telugu and English Mediums separately. A certificate also presented to the winning students of 10th class. Award is presented to the winners every year.

Following schools comes under this project:

1. Zilla Parishad Boys High School, Manakondur.

| Year | Class | Medium | Prize | Winner Name | School Name | Additional Info |
| --- | --- | --- | --- | --- | --- | --- |
| 2020-21 | 6th Grade | Urdu | 1st Prize | Mohammed Hafeez | Z.P Boys High School, Manakondur | |
| 2020-21 | 6th Grade | Urdu | 2nd Prize | Mohammed Ayan | Z.P Boys High School, Manakondur | |
| 2020-21 | 7th Grade | Urdu | 1st Prize | Syeda Zoha Fathima | Z.P Boys High School, Manakondur | |
| 2020-21 | 7th Grade | Urdu | 2nd Prize | Mohammed Rehan | Z.P Boys High School, Manakondur | |
| 2020-21 | 8th Grade | Urdu | 1st Prize | Ruheena Begum | Z.P Boys High School, Manakondur | |
| 2020-21 | 8th Grade | Urdu | 2nd Prize | Shaista Sana | Z.P Boys High School, Manakondur | |
| 2020-21 | 9th Grade | Urdu | 1st Prize | Ameena Begum | Z.P Boys High School, Manakondur | |
| 2020-21 | 9th Grade | Urdu | 2nd Prize | Syed Ifra Fathima | Z.P Boys High School, Manakondur | |
| 2020-21 | 10th Grade | Urdu | 1st Prize | Nooreen Tabassum | Z.P Boys High School, Manakondur | |
| 2020-21 | 10th Grade | Urdu | 2nd Prize | Amreen Begum | Z.P Boys High School, Manakondur | |
| 2021-22 | 6th Grade | Urdu | 1st Prize | Md. Ifran | Z.P Boys High School, Manakondur | |
| 2021-22 | 6th Grade | Urdu | 2nd Prize | Aleena | Z.P Boys High School, Manakondur | |
| 2021-22 | 7th Grade | Urdu | 1st Prize | Md. Ayan | Z.P Boys High School, Manakondur | |
| 2021-22 | 7th Grade | Urdu | 2nd Prize | Md. Hafeez | Z.P Boys High School, Manakondur | |
| 2021-22 | 8th Grade | Urdu | 1st Prize | Zoha Fatima | Z.P Boys High School, Manakondur | |
| 2021-22 | 8th Grade | Urdu | 2nd Prize | Nashra Tabassum | Z.P Boys High School, Manakondur | |
| 2021-22 | 9th Grade | Urdu | 1st Prize | Ruheena Begum | Z.P Boys High School, Manakondur | |
| 2021-22 | 9th Grade | Urdu | 2nd Prize | Shaista Sana | Z.P Boys High School, Manakondur | |
| 2021-22 | 10th Grade | Urdu | 1st Prize | Ameena Begum | Z.P Boys High School, Manakondur | |
| 2021-22 | 10th Grade | Urdu | 2nd Prize | Ifra Fatima | Z.P Boys High School, Manakondur | |
More Projects At This Location
Sports Meet - Manakondur - Year 2023
GreenDay - Manakondur - Year 2022
Sponsor A Child - Manakondur, Year 2022 - 23
Sports Meet - Manakondur - Year 2022
Sponsor A Child - Manakondur, Year 2021 - 22
Sponsor A Child - Manakondur, Year 2020 - 21
Sports Meet - Manakondur - Year 2020
Sponsor A Child - Manakondur, Year 2019 - 20
Sponsor A Child - Manakondur, Year 2018 -19
Donated Almirahs to Z.P.G.H.S - Manakondur
Sponsor A Child - Manakondur, Year 2017 -18
Sponsor A Child - Manakondur, Year 2016 -17
Sponsor A Child - Manakondur, Year 2015 -16
Quiz Program - Manakondur Year 2014
Sponsor A Child - Manakondur, Year 2014 -15
Sports Meet - Manakondur - Year 2013
Sponsor A Child - Manakondur, Year 2013 -14
Pullela Award For Excellence - Manakondur
Sponsor A Child - Manakondur, Year 2012 -13
Sponsor A Child - Manakondur, Year 2011 -12
Sponsor A Child - Manakondur, Year 2010 -11
Bighelp Award For Excellence - Manakondur
Sponsor A Child - Manakondur, Year 2009 -10
Sponsor A Child - Manakondur, Year 2008 - 09
Sponsor A Child - Manakonduru, Year 2007-2008
Sponsor A Child - Manakonduru, Year 2006 -2007
Sponsor A Child - Manakonduru, Year 2005-2006
Sponsor A Child - Manakonduru, Year 2004-2005
Donors sponsored this project
| Project Start Date | Project Current Status |
| --- | --- |
| 01-Sep-2022 | Active |