Project Details
Donated Duel Desks to M.P.P. School Naupada
Naupada, Srikakulam District, AP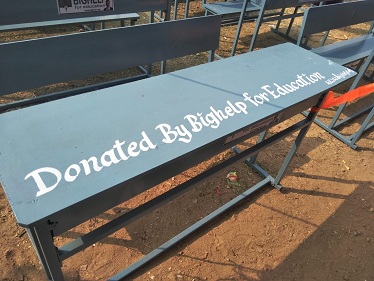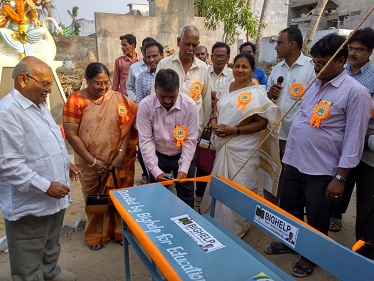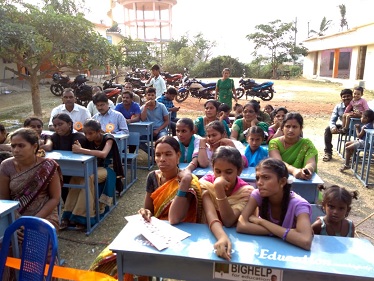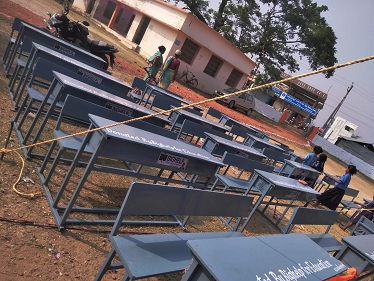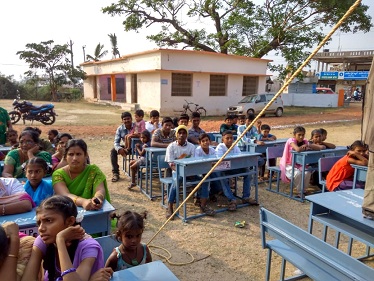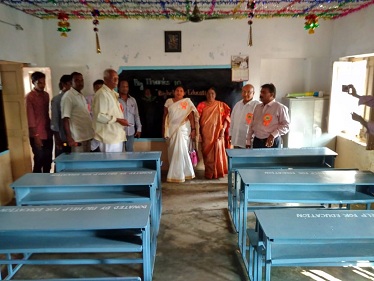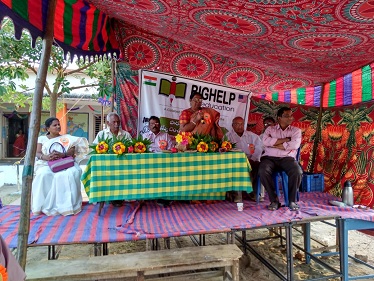 Bighelp donated 35 benches with desks for students of Mandal Parishad Primary School, Naupada, Santhabommali Mandal, Srikakulam district, AP.


This school serves 120 student and has no classroom benches for the children to sit on. Hence all the children sit on the floor in their classrooms, cross legged all day making them uncomfortable and causing their legs to radiate pain. This causes children to focus less on the lessons and more on the pain.

The school head master of Mandal Parishad Primary School Naupada approached Bighelp to provide benches to alleviate the problem being faced by the students. Bighelp project director from Naupada project Mr. Jayakrishna Reddy and Bighelp executive team visited the school, reviewed the needs of the children and approved the project to provide 35 benches with dual desks.

These benches provided a comfortable learning environment for all the children, as they are now able to focus more on their lessons without having to worry about pain caused due to sitting on the floor.


Media Coverage
04-Dec-2018 News Published in Andhra Bhoomi on 04-12-2018
04-Dec-2018 News Published in eenadu on 04-12-2018
04-Dec-2018 News Published in Prajaasakthi on 04-12-2018
Project Geographic Information
Naupada is a town located in Santha Bommali mandal of Srikakulam district, Andhra Pradesh, India. It is famous for salt fields and called the "Salt Bowl of Andhra Pradesh".


School Information
Mandal Parishad Primary School is situated in Naupada village and established in 1936. It is co-education school with present strength of 120 students and 5 teachers.


Project Inaugural Information
Inaugural function has been conducted in the school premises with following personnel.

1. Mrs. M. Sarojini Managing Trustee Bighelp
2. Mr. J. Chinnavadu M.E.O. Santhabommali
3. Mr. B. Appala Swamy Deputy E.O. Srikakulam
4. Mrs. K. Krishnaveni M.P.P. Santhabommali
5. Mr. C. Vijayananda Raja PCC Naupada
6. Mrs. Y.V. Vardhanam H.M. Girls High School Naupada
7. Mr. Nageswara Rao SBI Manager Naupada
8. Mr. Simhachalam Sub Inspector Naupada
9. Mr. A. Rama Rao H.M. MPP School Naupada
10. Mrs. G. Eswari S.M.C. Chairman
11. School staff
12. Villagers and
13. Local Journalists

The gathering appreciated the Bighelp efforts and thanked very much.

Smt. M. Sarojini Managing Trustee narrated the formation and activities of Bighelp in detailed. She also mentioned Sri. Shaik Chand Pasha the Chairman of the Trust is very much interested and struggling for uplifting the underprivileged children in India.

Duel desks presented to School by Mrs. Sarojini and Mr. Chinnavadu M.E.O. Santhabommali


More Projects At This Location
Sports Meet - Naupada - Year 2022
Sponsor A Child - Higher Education Zone - Naupada - Year 2022 - 23
Sponsor A Child - Naupada, Year 2022 - 23
Sponsor A Child - Higher Education Zone - Naupada - Year 2021 - 22
Sponsor A Child - Naupada, Year 2021 - 22
Provided Children Park and Garden to M.P.P. School - Naupada
Construction of Waiting hall and toilets at Govt. Junior College - Naupada
Provided NMMS Material to Govt. High School-Naupada
Naupada Orphan Sisters
Sponsor A Child - Higher Education Zone - Naupada - Year 2020 - 21
Sponsor A Child - Naupada, Year 2020 - 21
Quiz Program - Naupada Year 2020
Sports Meet - Naupada - Year 2020
Sponsor A Child - Higher Education Zone - Naupada - Year 2019 - 20
Sponsor A Child - Naupada, Year 2019 - 20
Donated hearing aid to Lokeswara Rao Naupada
Sports Meet - Naupada - Year 2018
Sponsor A Child - Naupada, Year 2018 - 19
Quiz Program - Naupada Year 2018
Sports Meet - Naupada - Year 2017
Sponsor A Child - Naupada, Year 2017 - 18
Sponsor A Child - Naupada, Year 2016 - 17
Quiz Program - Naupada Year 2015
Sponsor A Child - Naupada, Year 2015 - 16
Sports Meet - Naupada - Year 2014
Sponsor A Child - Naupada, Year 2014 - 15
Sports Meet - Naupada - Year 2013
Sponsor A Child - Naupada, Year 2013 - 14
Sports Meet - Naupada - Year 2012
Sponsor A Child - Naupada, Year 2012 - 13
Sports Meet - Naupada - Year 2011
Sponsor A Child - Naupada, Year 2011 - 12
Sponsor A Child - Naupada, Year 2010 - 11
Bighelp Award For Excellence - Naupada
Sponsor A Child - Naupada, Year 2009 - 10
Sponsor A Child - Naupada, Year 2008 - 09
Sponsor A Child - Naupada, Year 2007 - 2008
Donors sponsored this project
| Project Start Date | Project Current Status |
| --- | --- |
| 18-Aug-2018 | Completed |