Project Details
Donated Sports Material to ZPHS Gavaravaram
Gavaravaram, Visakhapatnam District, AP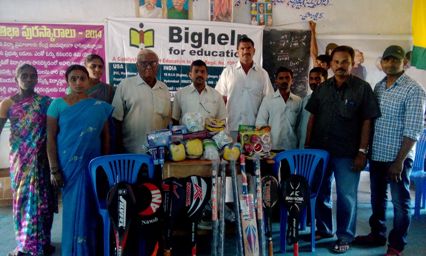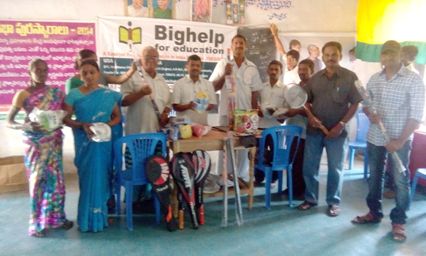 Bighelp donated sports material to Zilla Parishad High School Gavaravaram, located in Visakhapatnam district of Andhra Pradesh state.

Students of this school participates Mandal level, district level and state level sports competitions. This sports material is being used to practice well and show better performance in competitions.


Project Geographic Information
Gavaravaram is a Village in Chodavaram Mandal in Visakhapatanam District of Andhra Pradesh State, India. It is located 39 Kilometers towards west from District head quarters Vishakhapatnam. 555 KM from Hyderabad.


School Information
The Zilla Parishad High School situated in Gavaravaram, Chodavaram Mandal of Visakhapatnam District, Andhra Pradesh, India. This school was established in 1998 with strength of 297 students and 10 permanent teachers.
More Projects At This Location
Sponsor A Child - Gavaravaram, Year 2022 - 23
Sponsor A Child - Gavaravaram, Year 2021 - 22
Provided NMMS Material to Z.P.H. School-Gavaravaram
Sponsor A Child - Gavaravaram, Year 2020 - 21
Sponsor A Child - Gavaravaram, Year 2019 - 20
Sponsor A Child - Gavaravaram, Year 2018 -19
Sponsor A Child - Gavaravaram, Year 2017 -18
Sponsor A Child - Gavaravaram, Year 2016 -17
Sports Meet - Gavaravaram - Year 2015
Sponsor A Child - Gavaravaram, Year 2015 -16
Sponsor A Child - Gavaravaram, Year 2014-15
Kancherla Award For Excellence - Gavaravaram
Sports Meet - Gavaravaram - Year 2013
Sponsor A Child - Gavaravaram, Year 2013-14
Sports Meet - Gavaravaram - Year 2012
Sponsor A Child - Gavaravaram, Year 2012-13
Donors sponsored this project
| Project Start Date | Project Current Status |
| --- | --- |
| 13-Dec-2014 | Active |