Project Details
Saride Award For Excellence - Vadapalli
Vadapalli, East Godavari District, AP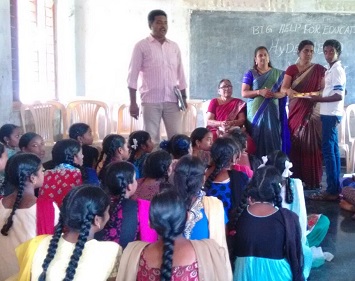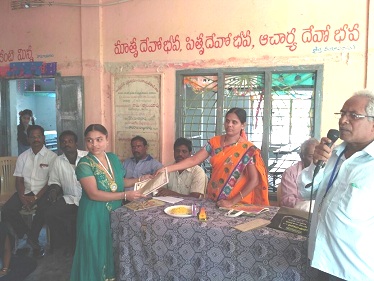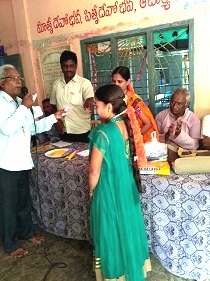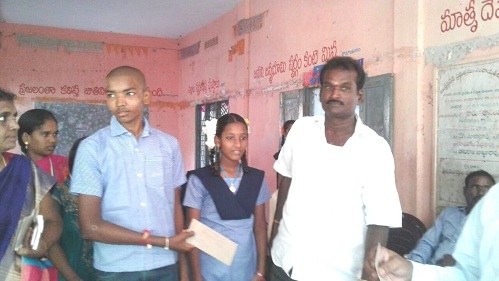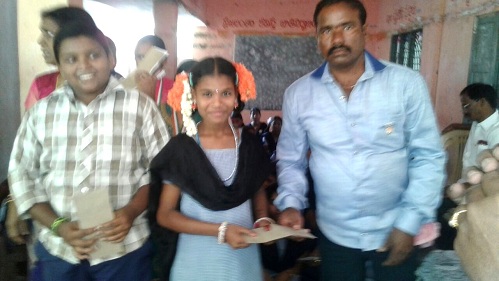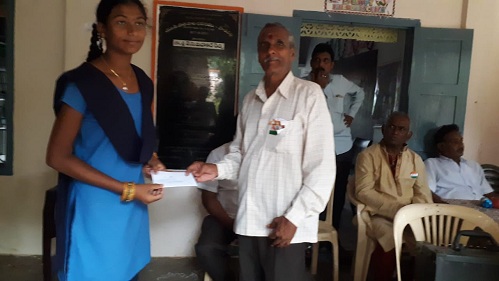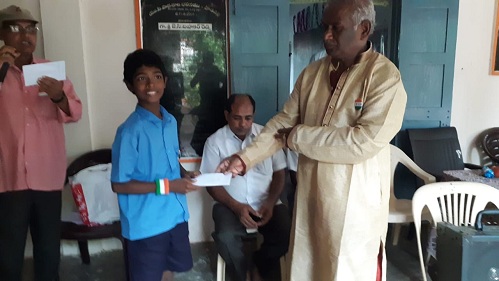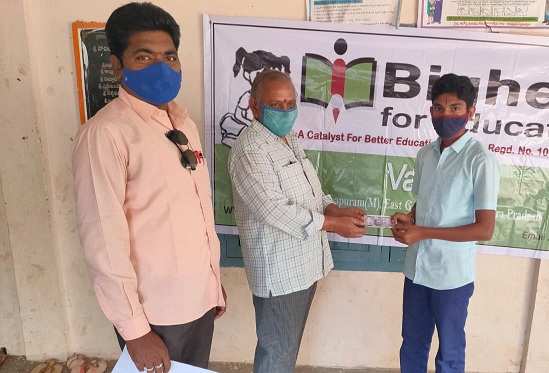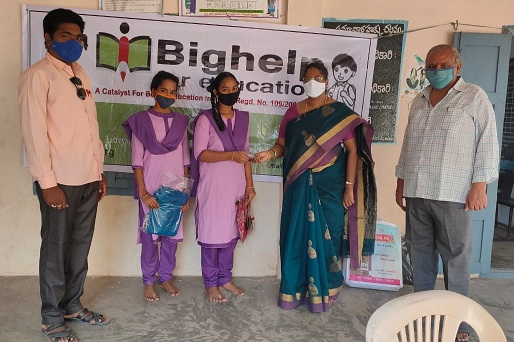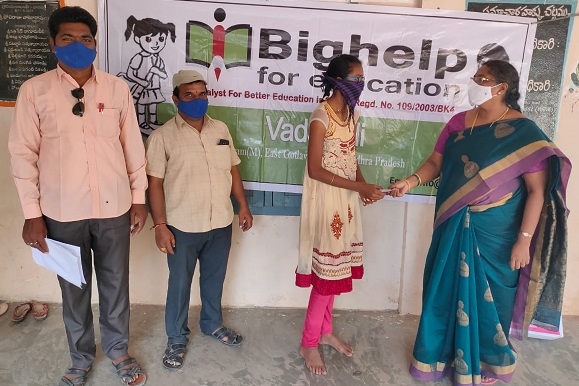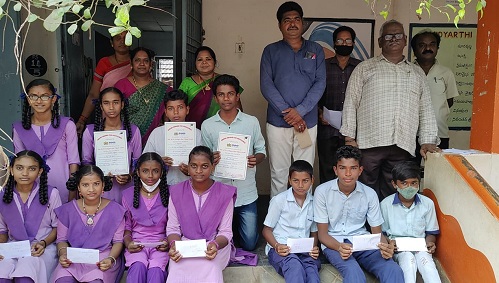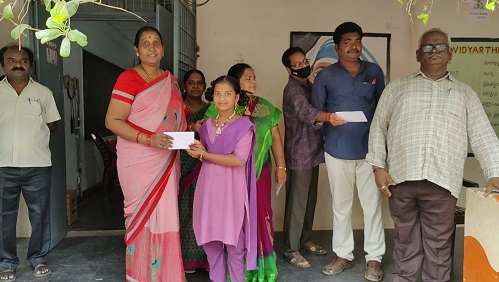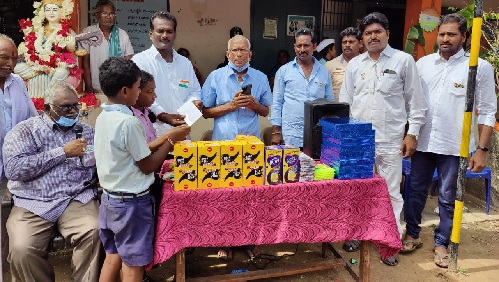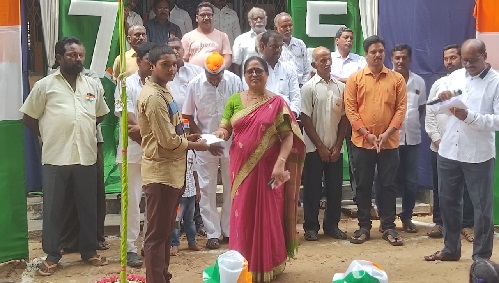 This Merit award has been established by Mr.Seshagiri Rao Saride to foster a competitive spirit among students studying in schools under Vadapalli village located in Aatreyapuram Mandal, East Godavari District of Andhra Pradesh. This award considers all students equally irrespective of their individual financial strength, cast or religion. This endeavor sends a message among all students that every child is capable of achieving highest rank regardless of their school, gender, class, race, religion or disability.

This award carries a cash prize of Rs.1500 every year which is given to students that score highest marks in 10th class in all schools under Vadapalli project. The first prize carries a cash award of Rs.1000 and the second prize Rs.500. A certificate also presented to the winning students. Award is presented to the winners on 15th August every year.

Following schools comes under this project:

1. Zilla Parishad High School, Vadapalli.

Media Coverage
29-Mar-2022 News Published in Eanadu on 29-03-2022
29-Mar-2022 News Published in Prajaasakthi on 29-03-2022
| Year | Class | Medium | Prize | Winner Name | School Name | Additional Info |
| --- | --- | --- | --- | --- | --- | --- |
| 2015-16 | 6th Grade | | 1st Prize | P. Raj Kumar | Z.P.P.H. School, Vadapalli | He has got 490 marks out of 600 |
| 2015-16 | 6th Grade | | 2nd Prize | K. Mallika | Z.P.P.H. School, Vadapalli | She has got 480 marks out of 600 |
| 2015-16 | 7th Grade | | 1st Prize | T.Ch.V.V. Prasad | Z.P.P.H. School, Vadapalli | He has got 529 marks out of 600 |
| 2015-16 | 7th Grade | | 2nd Prize | Y. Aparna Sree | Z.P.P.H. School, Vadapalli | She has got 512 marks out of 600 |
| 2015-16 | 8th Grade | | 1st Prize | P.S.D.V. Lakshmi | Z.P.P.H. School, Vadapalli | She has got 538 marks out of 600 |
| 2015-16 | 8th Grade | | 2nd Prize | R.V. Subramanyam | Z.P.P.H. School, Vadapalli | He has got 526 marks out of 600 |
| 2015-16 | 9th Grade | | 1st Prize | T. Suri Ram | Z.P.P.H. School, Vadapalli | He has got 538 marks out of 600 |
| 2015-16 | 9th Grade | | 2nd Prize | A. Sirisha | Z.P.P.H. School, Vadapalli | She has got 473 marks out of 600 |
| 2015-16 | 10th Grade | | 1st Prize | B. Swarna | Z.P.P.H. School, Vadapalli | She has got 9.5 GPA |
| 2015-16 | 10th Grade | | 1st Prize | K. Sirisha | Z.P.P.H. School, Vadapalli | She has got 9.5 GPA |
| 2015-16 | 10th Grade | | 1st Prize | V. Bhanu Durga | Z.P.P.H. School, Vadapalli | She has got 9.5 GPA |
| 2016-17 | 6th Grade | | 1st Prize | P.Hema Sai Durga | Z.P.P.H. School, Vadapalli | She has got 511 marks out of 600 |
| 2016-17 | 6th Grade | | 2nd Prize | A.Lakshmi Nageswari | Z.P.P.H. School, Vadapalli | She has got 452 marks out of 600 |
| 2016-17 | 7th Grade | | 1st Prize | K.S.N.D.Pavan | Z.P.P.H. School, Vadapalli | He has got 534 marks out of 600 |
| 2016-17 | 7th Grade | | 2nd Prize | Y.Kavyasri | Z.P.P.H. School, Vadapalli | She has got 506 marks out of 600 |
| 2016-17 | 8th Grade | | 1st Prize | M.Ch.Durga Prasad | Z.P.P.H. School, Vadapalli | He has got 514 marks out of 600 |
| 2016-17 | 8th Grade | | 2nd Prize | R.Hemadevi | Z.P.P.H. School, Vadapalli | She has got 469 marks out of 600 |
| 2016-17 | 9th Grade | | 1st Prize | Y.S.D.V.Lakshmi | Z.P.P.H. School, Vadapalli | She has got 541 marks out of 600 |
| 2016-17 | 9th Grade | | 2nd Prize | Y.Keerthana | Z.P.P.H. School, Vadapalli | She has got 512 marks out of 600 |
| 2016-17 | 10th Grade | | 1st Prize | Y.Durga | Z.P.P.H. School, Vadapalli | She has got GPA 9.0 out of 10 |
| 2016-17 | 10th Grade | | 1st Prize | Y.Sai Ram | Z.P.P.H. School, Vadapalli | He has got GPA 8.8 out of 10 |
| 2017-18 | 6th Grade | Telugu | 1st Prize | Y.Keerthi Swaroop | Z.P.P.H. School, Vadapalli | She has got 446 marks out of 600 |
| 2017-18 | 6th Grade | Telugu | 2nd Prize | K.Navya Grace | Z.P.P.H. School, Vadapalli | She has got 398 marks out of 600 |
| 2017-18 | 7th Grade | Telugu | 1st Prize | Y.Lakshmi Nageswari | Z.P.P.H. School, Vadapalli | She has got 470 marks out of 600 |
| 2017-18 | 7th Grade | Telugu | 2nd Prize | Y.Devi | Z.P.P.H. School, Vadapalli | She has got 459 marks out of 600 |
| 2017-18 | 8th Grade | Telugu | 1st Prize | Y.Kavya Sri | Z.P.P.H. School, Vadapalli | She has got 520 marks out of 600 |
| 2017-18 | 8th Grade | Telugu | 2nd Prize | K.Mallika | Z.P.P.H. School, Vadapalli | She has got 513 marks out of 600 |
| 2017-18 | 9th Grade | Telugu | 1st Prize | Y.Aparna Sai | Z.P.P.H. School, Vadapalli | She has got 543 marks out of 600 |
| 2017-18 | 9th Grade | Telugu | 2nd Prize | Y.Durga | Z.P.P.H. School, Vadapalli | She has got 539 marks out of 600 |
| 2017-18 | 6th Grade | English | 1st Prize | H.Janaki Subhasri | Z.P.P.H. School, Vadapalli | She has got 558 marks out of 600 |
| 2017-18 | 6th Grade | English | 2nd Prize | T.Harika Surya Satya Lakshmi | Z.P.P.H. School, Vadapalli | She has got 519 marks out of 600 |
| 2017-18 | 7th Grade | English | 1st Prize | M.Varshini | Z.P.P.H. School, Vadapalli | She has got 535 marks out of 600 |
| 2017-18 | 7th Grade | English | 2nd Prize | P.Hema Sai Durga | Z.P.P.H. School, Vadapalli | She has got 524 marks out of 600 |
| 2017-18 | 8th Grade | English | 1st Prize | K.S.N.Durga Pavan | Z.P.P.H. School, Vadapalli | He has got 532 marks out of 600 |
| 2017-18 | 8th Grade | English | 2nd Prize | Y.Jayam Kumar | Z.P.P.H. School, Vadapalli | She has got 528 marks out of 600 |
| 2017-18 | 9th Grade | English | 1st Prize | H.Mounika Aditya | Z.P.P.H. School, Vadapalli | She has got 558 marks out of 600 |
| 2017-18 | 9th Grade | English | 2nd Prize | T.Ch.V.V.Vara Prasad | Z.P.P.H. School, Vadapalli | He has got 555 marks out of 600 |
| 2017-18 | 10th Grade | | 1st Prize | P.Syamala Durga Venkata Lakshmi | Z.P.P.H. School, Vadapalli | She has got GPA 10 out of 10 |
| 2017-18 | 10th Grade | | 2nd Prize | Ch.P.V.Manikanta | Z.P.P.H. School, Vadapalli | He has got GPA 9.8 out of 10 |
| 2017-18 | 10th Grade | English | 2nd Prize | S.V.N.Maheswari | Z.P.P.H. School, Vadapalli | She has got GPA 9.8 out of 10 |
| 2018-19 | 6th Grade | Telugu | 1st Prize | Y. Satya | Z.P.P.H. School, Vadapalli | |
| 2018-19 | 6th Grade | Telugu | 1st Prize | M. Mohan Rao | Z.P.P.H. School, Vadapalli | |
| 2018-19 | 7th Grade | Telugu | 1st Prize | Y. Venkat | Z.P.P.H. School, Vadapalli | |
| 2018-19 | 7th Grade | Telugu | 2nd Prize | Y.V. Swaroop | Z.P.P.H. School, Vadapalli | |
| 2018-19 | 8th Grade | Telugu | 1st Prize | Y. Devi | Z.P.P.H. School, Vadapalli | |
| 2018-19 | 8th Grade | Telugu | 2nd Prize | Y.L. Naga Sravani | Z.P.P.H. School, Vadapalli | |
| 2018-19 | 8th Grade | Telugu | 2nd Prize | P. Ramya | Z.P.P.H. School, Vadapalli | |
| 2018-19 | 9th Grade | Telugu | 1st Prize | T.K. Phani Sri | Z.P.P.H. School, Vadapalli | |
| 2018-19 | 9th Grade | Telugu | 2nd Prize | Y. Kavya Sri | Z.P.P.H. School, Vadapalli | |
| 2018-19 | 6th Grade | English | 1st Prize | Y.M.S. Ganesh | Z.P.P.H. School, Vadapalli | |
| 2018-19 | 6th Grade | English | 2nd Prize | G. Maha Lakshmi Sri Durga | Z.P.P.H. School, Vadapalli | |
| 2018-19 | 7th Grade | English | 1st Prize | K. Naga Satya Sri | Z.P.P.H. School, Vadapalli | |
| 2018-19 | 7th Grade | English | 2nd Prize | M. Satya | Z.P.P.H. School, Vadapalli | |
| 2018-19 | 8th Grade | English | 1st Prize | S.L. Narayana | Z.P.P.H. School, Vadapalli | |
| 2018-19 | 8th Grade | English | 2nd Prize | R.S. Prasad | Z.P.P.H. School, Vadapalli | |
| 2018-19 | 8th Grade | English | 2nd Prize | M. Varshini | Z.P.P.H. School, Vadapalli | |
| 2018-19 | 9th Grade | English | 1st Prize | K.N.N.D. Pavan | Z.P.P.H. School, Vadapalli | |
| 2018-19 | 9th Grade | English | 2nd Prize | K.B.V. Durga Rao | Z.P.P.H. School, Vadapalli | |
| 2018-19 | 10th Grade | | 1st Prize | H. M. Aditya | Z.P.P.H. School, Vadapalli | He got 10 G.P.A. out of 10 |
| 2018-19 | 10th Grade | | 2nd Prize | Ch.L.B. Kumari | Z.P.P.H. School, Vadapalli | She got 9.8 G.P.A. out of 10 |
| 2019-20 | 6th Grade | Telugu | 1st Prize | P.Usha Rani | Z.P.P.H. School, Vadapalli | She got 334 out of 600 |
| 2019-20 | 6th Grade | Telugu | 2nd Prize | P.Nagendra Kumar | Z.P.P.H. School, Vadapalli | He got 317 out of 600 |
| 2019-20 | 7th Grade | Telugu | 1st Prize | Satya Yepuganti | Z.P.P.H. School, Vadapalli | She got 236 out of 600 |
| 2019-20 | 7th Grade | Telugu | 2nd Prize | Y.Sri Balaji | Z.P.P.H. School, Vadapalli | He got 235 out of 600 |
| 2019-20 | 8th Grade | Telugu | 1st Prize | Y.Venkat | Z.P.P.H. School, Vadapalli | He got 387 out of 600 |
| 2019-20 | 8th Grade | Telugu | 2nd Prize | Y.Keerthi Swaroop | Z.P.P.H. School, Vadapalli | He got 382 out of 600 |
| 2019-20 | 9th Grade | Telugu | 1st Prize | Y.Devi | Z.P.P.H. School, Vadapalli | She got 384 out of 600 |
| 2019-20 | 9th Grade | Telugu | 2nd Prize | Y.L.Ganeswari | Z.P.P.H. School, Vadapalli | She got 365 out of 600 |
| 2019-20 | 6th Grade | English | 1st Prize | M.Ch.Sathi Babu | Z.P.P.H. School, Vadapalli | He got 336 out of 600 |
| 2019-20 | 6th Grade | English | 2nd Prize | Y.Baby Veeraveni | Z.P.P.H. School, Vadapalli | She got 332 out of 600 |
| 2019-20 | 7th Grade | English | 1st Prize | Y.M.Sai Ganesh | Z.P.P.H. School, Vadapalli | She got 354 out of 600 |
| 2019-20 | 7th Grade | English | 2nd Prize | K.Mohini Venkata Laxmi | Z.P.P.H. School, Vadapalli | She got 290 out of 600 |
| 2019-20 | 8th Grade | English | 1st Prize | M.Lavanya | Z.P.P.H. School, Vadapalli | She got 386 out of 600 |
| 2019-20 | 8th Grade | English | 2nd Prize | T.Harika | Z.P.P.H. School, Vadapalli | He got 374 out of 600 |
| 2019-20 | 9th Grade | English | 1st Prize | S.Laxmi Narayana | Z.P.P.H. School, Vadapalli | He got 439 out of 600 |
| 2019-20 | 9th Grade | English | 2nd Prize | P.H.Sai Durga | Z.P.P.H. School, Vadapalli | She got 421 out of 600 |
| 2019-20 | 10th Grade | | 1st Prize | S.N.D.Pavan Kalluri | Z.P.P.H. School, Vadapalli | He got 520 out of 600 |
| 2019-20 | 10th Grade | | 2nd Prize | P.Raj Kumar | Z.P.P.H. School, Vadapalli | He got 507 out of 600 |
| 2020-21 | 8th Grade | Telugu | 1st Prize | Ch.Balaveera Venkata Sai Teja | Z.P.P.H. School, Vadapalli | He got 283 marks out of 480 |
| 2020-21 | 8th Grade | Telugu | 2nd Prize | P.Nagendra Kumar | Z.P.P.H. School, Vadapalli | He got 278 marks out of 480 |
| 2020-21 | 9th Grade | Telugu | 1st Prize | Y.Sri Balaji | Z.P.P.H. School, Vadapalli | He got 352 marks out of 600 |
| 2020-21 | 9th Grade | Telugu | 2nd Prize | Y.Satya | Z.P.P.H. School, Vadapalli | She got 338 marks out of 600 |
| 2020-21 | 10th Grade | Telugu | 1st Prize | Y.Venkat | Z.P.P.H. School, Vadapalli | He got 515 marks out of 600 |
| 2020-21 | 10th Grade | Telugu | 2nd Prize | J.Jagadish | Z.P.P.H. School, Vadapalli | He got 514 marks out of 600 |
| 2020-21 | 6th Grade | English | 1st Prize | Y.Moksha Sriveni | Z.P.P.H. School, Vadapalli | She got 391 marks out of 600 |
| 2020-21 | 6th Grade | English | 2nd Prize | M.J.S.Kala Priya | Z.P.P.H. School, Vadapalli | She got 384 marks out of 600 |
| 2020-21 | 7th Grade | English | 1st Prize | M.Dhana | Z.P.P.H. School, Vadapalli | He got 385 marks out of 600 |
| 2020-21 | 7th Grade | English | 2nd Prize | Y.Venkata Lakshmi | Z.P.P.H. School, Vadapalli | She got 379 marks out of 600 |
| 2020-21 | 8th Grade | English | 1st Prize | Y.Baby Veeraveni | Z.P.P.H. School, Vadapalli | She got 466 marks out of 480 |
| 2020-21 | 8th Grade | English | 2nd Prize | G.Sunanda | Z.P.P.H. School, Vadapalli | She got 447 marks out of 480 |
| 2020-21 | 9th Grade | English | 1st Prize | Y.Madhava Sai Ganesh | Z.P.P.H. School, Vadapalli | He got 414 marks out of 600 |
| 2020-21 | 9th Grade | English | 2nd Prize | V.Varshini | Z.P.P.H. School, Vadapalli | She got 410 marks out of 600 |
| 2020-21 | 10th Grade | English | 1st Prize | K.Satya Naga Sri | Z.P.P.H. School, Vadapalli | She got 574 marks out of 600 |
| 2020-21 | 10th Grade | English | 2nd Prize | M.Lavanya | Z.P.P.H. School, Vadapalli | She got 570 marks out of 600 |
| 2021-22 | 8th Grade | Telugu | 1st Prize | Veeralakshmi Vanamali | Z.P.P.H. School, Vadapalli | He got 345 marks out of 600 |
| 2021-22 | 8th Grade | Telugu | 2nd Prize | Nagendra Kumar Pydi Kondala | Z.P.P.H. School, Vadapalli | He got 338 marks out of 600 |
| 2021-22 | 9th Grade | Telugu | 1st Prize | Sri Balaji Yepuganti | Z.P.P.H. School, Vadapalli | He got 416 marks out of 600 |
| 2021-22 | 9th Grade | Telugu | 2nd Prize | Satya Yepuganti | Z.P.P.H. School, Vadapalli | She got 415 marks out of 600 |
| 2021-22 | 10th Grade | Telugu | 1st Prize | Keerthi Swaroop Yepuganti | Z.P.P.H. School, Vadapalli | She got 413 marks out of 600 |
| 2021-22 | 10th Grade | Telugu | 2nd Prize | Venkat Yepuganti | Z.P.P.H. School, Vadapalli | He got 411 marks out of 600 |
| 2021-22 | 6th Grade | English | 1st Prize | Moksha Sriveni Yepuganti | Z.P.P.H. School, Vadapalli | She got 495 marks out of 600 |
| 2021-22 | 6th Grade | English | 2nd Prize | Saideepika Vakapalli | Z.P.P.H. School, Vadapalli | She got 461 marks out of 600 |
| 2021-22 | 7th Grade | English | 1st Prize | S.Jnana Satya Sri | Z.P.P.H. School, Vadapalli | She got 496 marks out of 600 |
| 2021-22 | 7th Grade | English | 2nd Prize | V.Durga Mounika | Z.P.P.H. School, Vadapalli | She got 455 marks out of 600 |
| 2021-22 | 8th Grade | English | 1st Prize | Baby Veera Veni Yepuganti | Z.P.P.H. School, Vadapalli | She got 556 marks out of 600 |
| 2021-22 | 8th Grade | English | 2nd Prize | Sumanida Gajula | Z.P.P.H. School, Vadapalli | She got 495 marks out of 600 |
| 2021-22 | 9th Grade | English | 1st Prize | Varshini Varasala | Z.P.P.H. School, Vadapalli | She got 500 marks out of 600 |
| 2021-22 | 9th Grade | English | 2nd Prize | Vyshnavi Seethala | Z.P.P.H. School, Vadapalli | She got 499 marks out of 600 |
| 2021-22 | 10th Grade | English | 1st Prize | Lavanya Matta | Z.P.P.H. School, Vadapalli | She got 514 marks out of 600 |
| 2021-22 | 10th Grade | English | 2nd Prize | H.S.S.Lakshmi Thota | Z.P.P.H. School, Vadapalli | She got 472 marks out of 600 |
Comments
Dt:15-Aug-2016
Three students got 1st rank during the academic year 2015-16. Award amount was distributed equally for both winners. Below is the list of winners.

Awards were presented on 15th August 2016 by Bighelp project committee at Zilla Parishad High School, Vadapalli


Award Winners for the year 2014 - 15
Dt:15-Aug-2015
1st Prize winner: Swathi –Zilla Praja Parishad High school, Vadapalli - GPA 9.7 out of 10.

2nd Prize winner: Dhanusha – Zilla Praja Parishad High School, Vadapalli - GPA 9.2 out of 10.

Awards were presented on 15th August 2015 by Bighelp project committee at Zilla Praja Parishad High School, Vadapalli


Award winners for the year 2013-2014
Dt:16-Aug-2014
Two students got 2nd rank during the academic year 2013-14. Award amount was distributed equally for both winners. Below is the list of winners.

1st Prize winner: Kondamma –Zilla Praja Parishad High school, Vadapalli - GPA 9.2 out of 10.

2nd Prize winner 1: Devika – Zilla Praja Parishad High School, Vadapalli - GPA 9.0 out of 10.

2nd Prize winner 2: Nagamani – Zilla Praja Parishad High School, Vadapalli - GPA 9.0 out of 10.

Awards were presented on 15th August 2014 by Bighelp project committee at Zilla Praja Parishad High School, Vadapalli


More Projects At This Location
Sports Meet - Vadapalli - Year 2022
Sponsor A Child - Vadapalli, Year 2022 - 23
Sponsor A Child - Vadapalli, Year 2021 - 22
Provided NMMS Material to Z.P.H. School-Vadapalli
Sponsor A Child - Vadapalli, Year 2020 - 21
Donated Sound System to Z.P.H. School - Vadapalli
Quiz Program - Vadapalli Year 2020
Sports Meet - Vadapalli - Year 2019
Sponsor A Child - Vadapalli, Year 2019 - 20
Renovation of school Building - Vadapalli
Sports Meet - Vadapalli - Year 2018
Sponsor A Child - Vadapalli, Year 2018 - 19
Sports Meet - Vadapalli - Year 2017
Sponsor A Child - Vadapalli, Year 2017 - 18
Sports Meet - Vadapalli - Year 2016
Sponsor A Child - Vadapalli, Year 2016 - 17
Sports Meet - Vadapalli - Year 2015
Sponsor A Child - Vadapalli, Year 2015 - 16
Sports Meet - Vadapalli - Year 2014
Saride Award For Excellence - Lolla
Sponsor A Child - Vadapalli, Year 2014 - 15
Sports Meet - Vadapalli - Year 2013
Sponsor A Child - Vadapalli, Year 2013 - 14
Sports Meet - Vadapalli - Year 2012
Providing Iron Grill gates to M.P.P. School Vadapalli
Sponsor A Child - Vadapalli, Year 2012 - 13
Sports Meet - Vadapalli - Year 2011
Bighelp Award For Excellence - Vadapalli
Sponsor A Child - Vadapalli, Year 2011 - 12
Sports Meet - Vadapalli - Year 2010
Sponsor A Child - Vadapalli, Year 2010 - 11
Veeramsetty Award For Excellence - Vadapalli
Sponsor A Child - Vadapalli, Year 2009 - 10
Sponsor A Child - Vadapalli, Year 2008 - 09
Sponsor A Child - Vadapalli, Year 2007 - 2008
| Project Start Date | Project Current Status |
| --- | --- |
| 15-Aug-2014 | Completed |