Project Details
Bighelp Award For Excellence - Annavaram
Annavaram, Cuddapah District, AP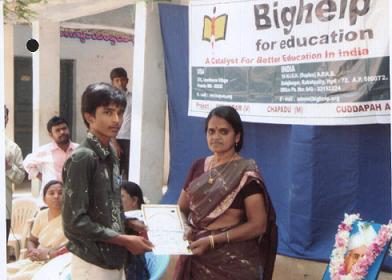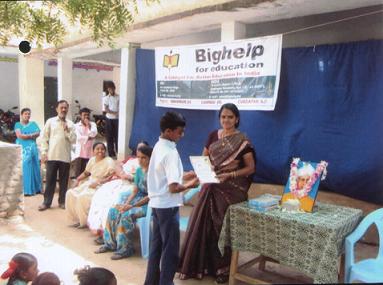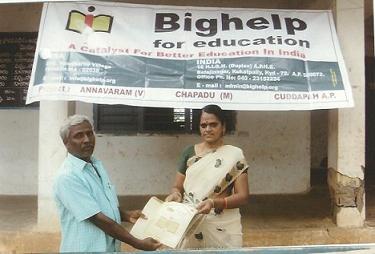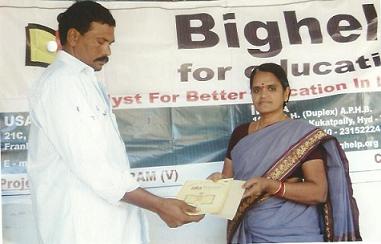 This Merit award has been established by Bighelp For Education to foster a competitive spirit among students studying in schools under Annavaram project located in Annavaram village, Cuddapah District of Andhra Pradesh. This award considers all students equally irrespective of their individual financial strength, cast or religion. This endeavor sends a message among all students that every child is capable of achieving highest rank regardless of their school, gender, class, race, religion or disability.

This award carries a cash prize of Rs.1500 every year which is given to students that score highest marks in 10th class in all schools under Annavaram project. The first prize carries a cash award of Rs.1000 and the second prize Rs.500. A certificate also presented to the winning students. Award is presented to the winners on 5th September every year.

Following schools comes under this project:

1. Zilla Parishad High School, Annavaram.
Comments
Student Instructions
Dt:05-Sep-2012
Two students got 1st rank during the academic year 2011-12. Award amount was distributed equally for both winners. Below is the list of winners.

1st Prize winner 1: Swetha - Zilla Parishad High school, Annavaram - GPA 9.7 out of 10.

1st Prize winner 2: Vanaja - Zilla Parishad High School, Machanapalli - GPA 9.7 10 out of 10.

Awards were presented on 5th September 2012 by Bighelp project committee at Zilla Parishad High School Annavaram.


More Projects At This Location
Sponsor A Child - Annavaram, Year 2021- 22
Provided NMMS Material to Z.P. H. School-Annavaram
Sponsor A Child - Annavaram, Year 2020- 21
Sponsor A Child - Annavaram, Year 2019- 20
Sponsor A Child - Annavaram, Year 2018- 19
Sponsor A Child - Annavaram, Year 2017- 18
Sponsor A Child - Annavaram, Year 2016- 17
Sponsor A Child - Annavaram, Year 2015- 16
Sponsor A Child - Annavaram, Year 2014- 15
Sponsor A Child - Annavaram, Year 2013- 14
Sports Meet - Annavaram - Year 2012
Sponsor A Child - Annavaram, Year 2012- 13
Sponsor A Child - Annavaram, Year 2011- 12
Sponsor A Child - Annavaram, Year 2010 - 11
Lakshmi Kanth Pabbisetti Award For Excellence - Annavaram
Donors sponsored this project
| Project Start Date | Project Current Status |
| --- | --- |
| 05-Sep-2011 | Active |